As a thought leader, ThreeEQ Founder and CEO Jason Ma 馬良傑 contributes actively to the press and to corporate and education leadership communities worldwide. If you are from the press or a community of great minds and would like to interview Mr. Ma or invite him to speak, please contact us. Thank you!

.
MEDIA STORY IDEAS
You will find a wealth of Jason L. Ma 馬良傑's story ideas for you under SPEAKING TOPICS on his Speaker page. Together, we can craft specific headlines and stories to inspire, enlighten, and maximize positive outcomes for your audience and media outlet! Please email us.
---

Events & News
3 December 2017 — Harvard Business School Association of N. California
Speech on Preparing Your Children For Middle/High School, College, Career, & Life Success
It was Jason Ma's honor and pleasure to inspire and enlighten by speaking about preparing young people for success at a packed event for parents and C-suite/senior executives sponsored by the HBS Association of N. California. The event co-sponsors were the Berkeley Haas Alumni Club of Silicon Valley, Harvard Club of San Francisco, Harvard Club of Silicon Valley, Stanford GSB Alumni, and Wharton Club of Northern California. The Churchill Club and the Ends and Means program at the Pacific-Union Club were kind to communicate to their membership about this event as well. You can watch Ma's inspiring speech and audience Q&A here.

14 November 2017 — Asian Strategy & Leadership Institute (ASLI)
Speaking at the World Chinese Economic Summit 2017
ThreeEQ CEO/Chief Mentor and Young Leaders 3.0 author Jason Ma was honored to be a speaker for fourth consecutive year at the World Chinese Economic Summit (WCES) 世界华人经济峰会. The theme of the summit this year was "Managing Global Uncertainty: Exploring New Opportunities." Ma spoke on the "Young Entrepreneurs Roundtable." Photos with fellow speakers Hong Kong Chief Executive Mrs. Carrie Lam, HKTDC Chairman Vincent Lo, WCES Chairman and ASLI CEO Michael Yeoh, and other (former) world leaders, tycoons, and business leaders are shown here.

8 November 2017 — DC Finance
Speaking at the Tech Family Office Forum
ThreeEQ Founder and CEO Jason Ma inspired family offices and ultra high net worth individuals interested in tech and science investments by moderating the conversation with 4 innovative edtech CEOs as panelists at this premier family office forum.
Videos
Jason Ma's Speech and Q&A on Preparing Your Children For Middle/High School, College, Career, & Life Success (Sponsored by Harvard Business School Association of N. California)
Photos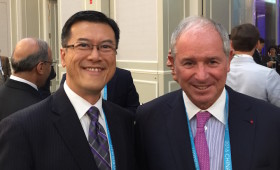 Jason Ma, Member of The B20, with G20 Leaders & Tycoons (2014 to Present)