SIGNATURE SERVICES FOR HIGH SCHOOL STUDENTS
.
Today, high school students, including high achievers, are faced with more smartphone/online distractions, stress, choices, uncertainty, and angst than ever before, while still trying to discover or develop their passions, talents, and direction. Meanwhile, elite college admission is getting increasingly hypercompetitive, and the best companies hire only the very best.
Layering the unavoidable and daunting emotional and social challenges common in their life stage, teenagers feel that preparing for college and tackling young adult responsibilities has never been more difficult. Parents are also concerned about, and some are terrified for, their children's future. Teachers are very challenged (and often under-appreciated). Elite colleges are evermore selective in admits.
Enter ThreeEQ, led by Founder, CEO and Chief Mentor Jason Ma.
At ThreeEQ, we inspire and guide select high-achieving high schoolers (Gen Z'ers!) to get admitted to elite colleges and universities, to transform into skillful and solid leaders, and to pave successful career paths so that their wealth, health, and happiness will be above the fold among even their driven peers.
Success stories and testimonials abound.
As a foremost, compassionate college counselor and career/life success mentor blessed with an uncanny ability to motivate, inspire, and help high achievers, Mr. Ma leads the tight-knit ThreeEQ Team with focus and passion in helping you achieve great outcomes in today's fast-changing, information-inundated, and stressful world.
We feel your pain but are excited about your opportunities and future. Through our best-in-class, personalized, 1-on-1, strategic, pragmatic, and nurturing success mentoring process, you can transcend your difficulties and excel in key areas of your life. During these critical years through high school, we inspire and focus on expanding your horizons and straightening and shortening your paths to success.
For most high-achieving high school students and college (transfer) applicants, admission to great colleges and universities is the end goal. Indeed, we guide high achievers like you to strategically plan, execute, maximize your chances for getting admitted to dream and best-fit colleges and universities, and make the right choice.

However, we believe that admission is merely a stepping-stone to greater success. Our personalized, 1-on-1 success mentoring is designed not only to help you achieve strong college admissions results (given enough time to guide you) and rise as successful next-generation leaders, but also to transform you into the best version of yourself and help you reach more sustainable joy in your life.
.
WATCH Jason Ma's inspiring masterclass on "Preparing for Middle/High School, College, Career, and Personal Success." This was a special event for parents with Mr. Ma enthusiastically organized and sponsored by the Harvard Business School (HBS) Association of Northern California and co-sponsored by the
.
– Harvard Club of San Francisco
– Harvard Club of Silicon Valley
– Stanford GSB Alumni
– UC Berkeley Haas Alumni Network Silicon Valley Chapter
– Wharton Club of Northern California
In HH:MM:SS, this masterclass (1.5 hours) is sequenced as follows:
00:00:00 – 00:06:05 Introduction by the Host
00:06:10 – 01:12:10 Keynote address by Jason Ma
01:12:12 – 01:37:08 Audience Q&A
We have personally and successfully guided 1-on-1 and transformed the lives of numerous college/university students and young professionals/entrepreneurs through the years. Our former students can be found working at renowned enterprises, nonprofits, and startups, working in government, and attending top schools.
.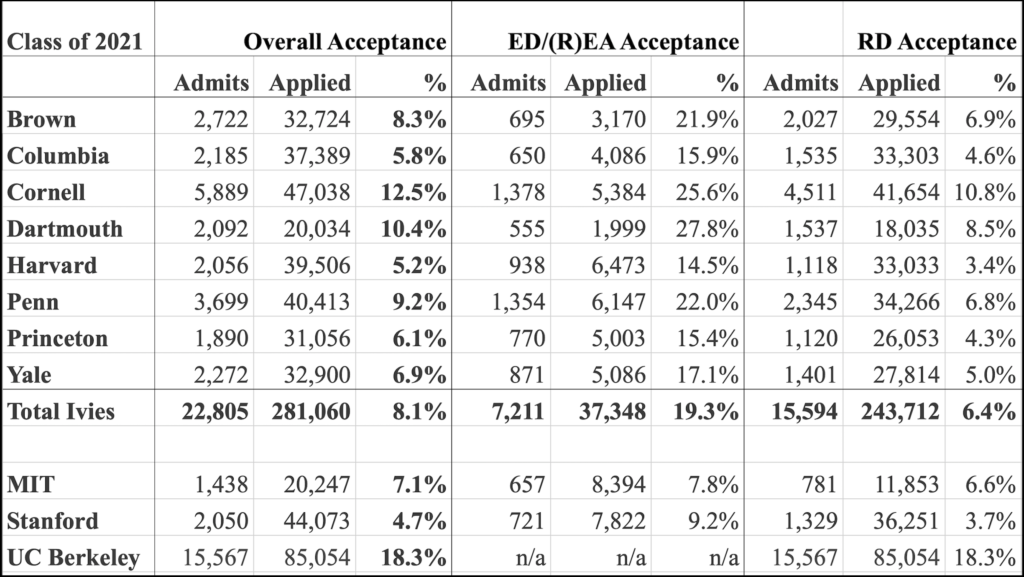 Ivy League, MIT, Stanford, & UC Berkeley Class of 2021 Admissions Results
.
ThreeEQ is proud to have helped 97% of our college applicant students get admitted to one or more of their top choice schools. ThreeEQ's exceptional track record includes helping numerous high achievers get admitted to their share of all of the elite US colleges and universities—all eight Ivy League schools (Brown, Columbia, Cornell, Dartmouth, Harvard, Penn/Wharton, Princeton, and Yale), Stanford, MIT, Caltech, UC Berkeley, UCLA, UChicago, Duke, Northwestern, Georgetown, Johns Hopkins, Notre Dame, Carnegie Mellon, Williams, Pomona, and all other elite US undergraduate institutions. With Mr. Ma's guidance, a number of students were also admitted to elite UK universities, including Oxford, Cambridge, Imperial, and others.
In addition to helping you get admitted to great, best-fit colleges and universities, our unusually effective success mentoring process for you integrates Mr. Ma's extensively proven and pragmatic framework of emotional, social, and leadership intelligence ("3EQ") and genuine story, (emotional) state of mind, strategies, (soft) skills, with a visionary direction ("4S"). Decent IQ matters, but strong "3EQ" is necessary for high school stars/leaders to thrive through college with purpose and joy and position proactively well for meaningful and lucrative careers.
We have helped produce extraordinary results in many students—results that cannot be replicated in traditional private, boarding, and public school settings. Our holistic service works especially well for high achievers who desire a stronger competitive edge or clearer direction.
.
Watch some of the student testimonials for Mr. Ma
Learn more under the following three tabs:

Becoming an Even Sharper and Stronger Student
.
High school is a time for self-discovery and personal development, as well as academic achievement and success. We ensure that you will enhance both your academic performance and practical emotional, social, and leadership intelligence during these four years — over and above what you are or are not getting at your public, private/prep, or international school.
Through our personalized guidance, you will sharpen your study and at-home habits, build better time and stress management skills, select a rigorous and balanced course load, enhance your GPA, participate in meaningful extracurricular activities (including relevant competitive summer internships for which we provide choices and guidance), and strengthen communications and people skills. We motivate and inspire you to think beyond the classroom and shape you to become a more purposeful and mature person, creative and critical thinker, communicator, and leader astute in both strategy and execution.
Developing Leadership, Communication, and Interpersonal Skills That Help You Stand Out
.
Part of our mission is to empower and groom new generations of effective young global leaders worldwide. High school is the perfect time for you to start building an impressive resume of work and volunteer experiences and achievements. We help you utilize your school years and extended school breaks (e.g. summers) effectively to gain lasting leadership experiences. Our emphasis on helping students tap into their IQ and upgrade EQ is unparalleled: we help you excel academically but also improve your relationships with your peers, teachers, coaches, and parents. We guide you to become a genuinely interesting, thoughtful, highly engaged individual who will make a difference at your future university or liberal arts college and in the real world.
We also work closely with you to help you build strong personal qualities and skills in communication, relationship building, critical and creative thinking, time and conflict management, and leadership, ultimately enabling you to thrive in the classroom, in the field, and everywhere in between. Such communication and leadership abilities cannot be conjured up "just in time" during the senior year. Learning to speak, write, self-talk, and lead effectively is a slow-cooking process that spans a few years, not popcorn-quick microwaving.
Planning For and Applying to Elite US and UK Colleges and Universities
.
"But Mr. Ma, isn't it too early for kids to begin the college planning and application process?" a few well-intentioned parents asked. Not necessarily.

In May 2010, our founder and chief mentor Jason Ma interviewed ten high school seniors who had gone through an excellent college planning and applications guidance program at his previous company and were admitted to Ivy League schools, Stanford, MIT, UChicago, Northwestern, UC Berkeley, and other top schools. Mr. Ma asked as part of the interview: "What would you advise rising seniors and younger students?" Nine of ten students responded with something like: "If I could have started earlier, I would have done so. The college app season was (very) stressful. Students, start earlier! Don't procrastinate!" It is wise to start early with truly expert guidance.
Applying to top-tier US colleges and universities can be a confusing, complex, and highly competitive process for many, including achievers. And applying to elite UK universities, such as Oxford and Cambridge ("Oxbridge"), isn't easy as well but not as complex as the very elite US universities. Parents and students often don't know what they don't know. Reputable schools avoid cookie-cutter students who offer no more than perfect grades and test scores. The most selective schools seek standouts or great fits and (sadly but surely) reject the vast majority of high achievers with strong academic performance and/or lots of extracurricular activities.
Fortunately, our time-tested, personalized, strategic, pragmatic, and nurturing college planning, applications, and admissions process guidance, along with life and career coaching, help you realize your authentic best and full potential, prepare well for and present highly compelling applications, maximize chances for admission to your dream schools, and make the right college choice. We guide and coach you—whether introverted or extroverted—to maximize your outcomes with joy and well-being, while being a trusted confidant to their parents.
Through the entire elite college planning, applications, and admissions process, we at ThreeEQ wholeheartedly and meticulously guide you to:
Enhance significantly, if not optimize, your authentic mindset, direction, goals, strategies, soft skills, habits, and activities (this complex process with guidance should start early in high school, if not in middle school)
Plan for rigorous but balanced academic course loads, term to term, year to year
Learn how to earn stronger or better grades in school
Strategize on why, when, and how best to prep for the SAT or ACT, right SAT Subject Tests, and AP or IB exams
Put together and update periodically a strong resume/CV
Research colleges smartly
Determine a manageable list of reach, probable, and solid schools
Decide whether or not to apply Early Decision or (Restricted) Early Action
Craft tons of authentic and cogent personal essays and other types of writings that represent the best of you, to the target schools. This complex core subprocess is often (far)underestimated by even most high achievers!
Complete strong application forms (even most high achievers make mistakes; our hawkeyes catch them!)
Secure strong recommendation letters from faculty, school counselors, and if appropriate, other third parties
Prepare appealing (visual or performing) arts supplements, if applicable
Apply for merit-based scholarships, if appropriate
Prepare effectively for in-person, phone, or online interviews
Make certain your whole shabang looks great (how aware are you on common causes for rejections?)
Respond to application wait lists
Decide the optimal university or liberal arts college to enroll (matriculate) in!
And once again, high achievers, we sincerely and strongly advise for you to NOT attempt to do all of this yourself without truly high-quality 3rd-party guidance because both you and we care very much about your achieving great results with well-being!
IN SUM, our client students and parents enjoy minimizing opportunity costs and pain, maximizing success and gains, and getting the peace of mind and certainty by taking advantage of our preeminent mentorship. With our guidance, you will set clearer direction, achieve great results in college/university admissions, and transform powerfully upward.
.
NEXT STEP:
Book a call (ThreeEQ.com/apply) with your parent(s) and us to listen, learn, and discuss if we can help you achieve great outcomes, transform upward, and unleash your full potential. After you schedule a date/time that works for you, your parent(s), and us, you'll be directed to submit a short application form that'll help us prepare for the call. We can meet in Zoom while you all are in different locations. It will be the BEST time you and your parents have ever spent for your future!
Click here to watch now (during 9am – 9pm PT) our new enlightening video masterclass (3/4 hour) "Secrets Our Client Families Use to Prepare Their Children for Elite College Admissions and Happy Lives (Without the Usual Stress, Anxiety, or Sleep Deprivation!)."