LEADERSHIP
God, Jesus Christ, 3EQ, EQ, Three EQ, Jason Ma, Ultra High Net Worth, Parents, HNWI, College Counseling, Executive Coaching
TABLE OF CONTENTS
– Founder's Highlights
– Founder's Biography
– Values
– Testimonials & Success Stories
– Philanthropy
– Young Leaders 3.0 Acclaimed Book Team
– Advisory Board
– Gallery

FOUNDER'S HIGHLIGHTS
Jason L. Ma
Founder, CEO and Chief Mentor
ThreeEQ, Inc.
AWARD-WINNING CHIEF MENTOR TO NEXT-GEN LEADERS & UHNW FAMILIES
Ivy League/Elite College Consultant and Advanced Leadership, Business, & Executive Coach —

Preparing Next Gens for Greatness and Enhancing UHNW Family Legacies.

Discover the power of

 

ThreeEQ's Signature Services for Families and Businesses.
Impact Wealth and Family Office Magazines

contributor

 and f

ormer Forbes contributor on Ivy League and Elite College Prep & Admissions, Higher Education, Next-Gen Leadership, and Entrepreneurship Success (1.8M+ views). Read Jason's articles.
Acclaimed author of Young Leaders 3.0: Stories, Insights, and Tips for Next-Generation Achievers (book)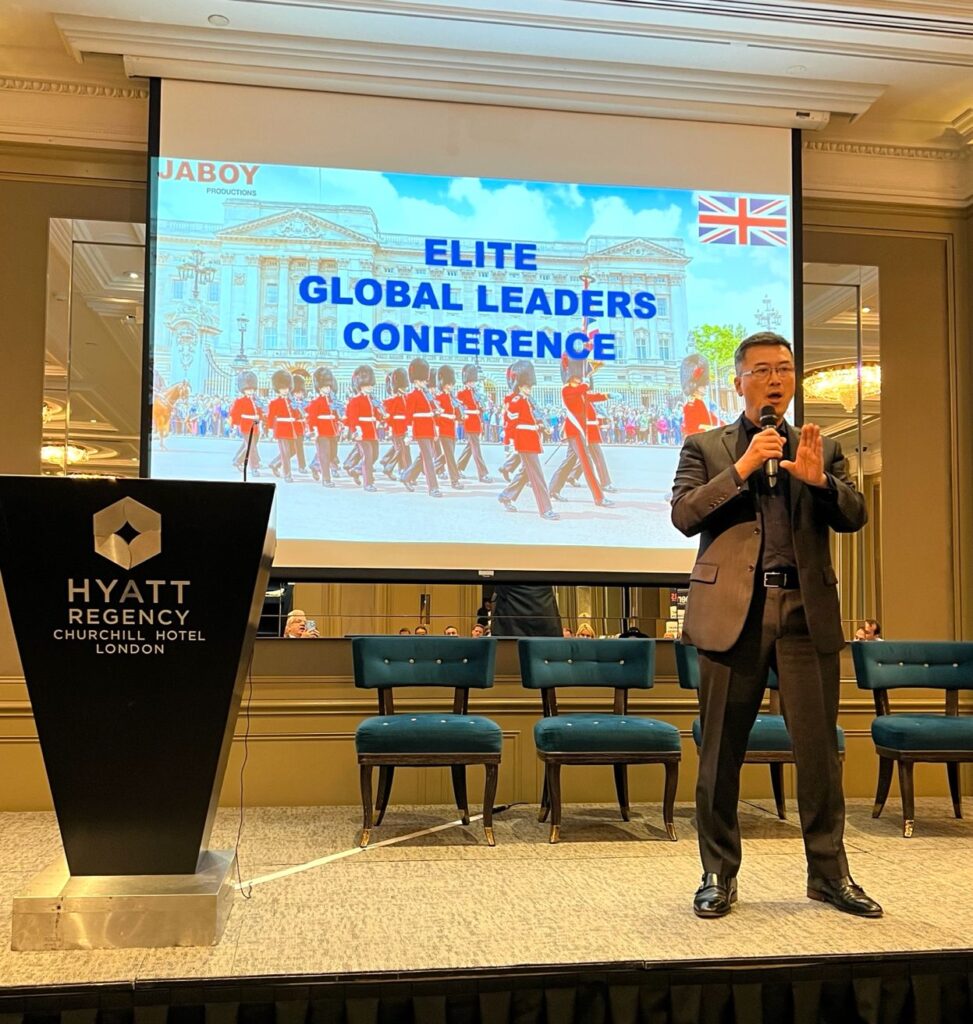 GLOBAL TECH BUSINESS & EDUCATION LEADER, ENTREPRENEUR, & INVESTOR
Chief Business Officer

and Investor at

a Patented Transformative Tech Company

focused on something big and groundbreaking. We are poised to transform and benefit significantly in unprecedented ways a massive, evolving 3-sided marketplace involving Consumers, Brands, and Platforms across various verticals. Around mid-stage but semi-stealth for strategic advantage and high signal-to-noise execution. This venture is like AWS quietly building in the background during its earlier growth years under Amazon. Endorsements by high-powered top leaders. Grateful for a recent privately invited engagement with the NFL Leadership.
Well-Connected, Strategic Corporate CEO and Family Office Advisor and Rainmaker, and

Investor in Selected Tech Companies.

The sectors in which Jason's been involved include digital and other technologies, education, finance, e-commerce, media, distribution, VTOL aeronautics, oil refinery, and hospitality. If you are interested in leveraging Jason's expertise, please contact him directly.
Appointed Member of the B20, the G20's Official Forum Representing the Global Business Community (Private Sector), throughout the G20 Presidencies of Australia, Turkey, China, Germany, Argentina, Saudi Arabia, Italy, Indonesia, and India (2023). Leading member of B20's Future of Work (Employment & Skills) and Education Taskforce. One of a select few Americans appointed annually to the B20 since 2014.
Forbes Global CEO Conference Delegate

by invitation only for 8 years before Forbes was acquired by an Asian private equity firm

Former Member, Silicon Valley Leadership Group (SVLG), on its Tech Committee and Education & Workforce Committee

Philanthropist. See the Philanthropy section below.
SPEAKER, MASTERCLASS LEADER, & SHOW GUEST
Sought-After (Keynote/Fireside/Panel) Speaker, Moderator, MC, Masterclass Leader, and Show Guest. Event organizers and show hosts/producers that have invited Jason to speak and appear include: Corporates; B20/G20 and CEO forums; Family Office Association and various Family Office summits; CNBC's Managing Asia; Fashion 4 Development commencing UNGA 2022; NAWRB Women Leaders; various podcasts; Silicon Valley Insider; Harvard Business School (HBS), Harvard, Wharton, Stanford GSB, and Berkeley Haas alumni clubs; Stanford; UC Berkeley. View some of Jason's inspiring talks and interviews. To book Jason Ma, please go to his Professional Speaking page.

FOUNDER'S BIOGRAPHY
Please view Jason Ma's LinkedIn profile to learn more about his 39 years of seasoned industry experience and expertise as an award-winning Chief Mentor of Next-Gen Leaders, Global Technology Business and Education Leader, Entrepreneur, Mentor, Author, Investor, and Speaker.
Jason's Speaker Bio is under ABOUT JASON MA on his Professional Speaking page. If you need a customized short bio for an event or publication, please don't hesitate to contact us.

VALUES
In the Ma family (playfully called the "MAfia"), ThreeEQ founder Jason Ma values unconditional love, humor, and high standards in what matters. ThreeEQ, a family business, integrates Jason's family values with the following principles:
Integrity and authenticity

A client-first approach

—

their success is our success

Compassionate leadership and connection

Strategic and pragmatic contributions

Creative, open-minded, and deep thinking

Lifelong learning and growth

TESTIMONIALS & SUCCESS STORIES
ThreeEQ's Jason Ma is recognized as an award-winning Chief Mentor of Next-Gen Leaders, with unparalleled expertise and a nearly 100% success rate with coachable, committed, and resourceful Private Client Families. We invite you to explore our plethora of Client testimonials and success stories to gain a deeper understanding of the transformative impact of our coaching and mentoring services.
"Chief Mentor of
Next-Gen Leaders"

.
—Family Office Association
—Fashion 4 Development
(League of Gentlemen)
—Agreus Group
—Washington Elite
—The Capital Club, ..Zandbergen Report,
Audvisor, &
Other Podcasts


"Chief Mentor of
Next-Gen Leaders"


.
—The CEO Magazine
—Impact Wealth Magazine
—Family Office Magazine
—361Firm Newport Conf
—Family Office Investment
Conf in Dubai & Riyadh
—Elite Global Leaders Conf
—NAWRB Women Leaders
—Silicon Valley Insider


.

"Preeminent Mentor
of Next-Gen Leaders"


.
—Black Tie Magazine
—Clientele Luxury Magazine

PHILANTHROPY
We at ThreeEQ are deeply committed to making a significant impact through generous giving and embodying an abundance mindset. We dedicate time and energy (pro bono services), connections, and capital to select charities and non-profit organizations that hold a special place in our hearts.
1. Since 2014, ThreeEQ CEO and Chief Mentor Jason Ma has served as an appointed volunteer member of the B20, the official G20 dialogue forum representing the global business community (private sector). His passion lies in helping drive economic growth and development that positively impacts billions of people and countless businesses across the G20 economies and beyond. As a B20 member, Jason has contributed his expertise to the B20's Future of Work (Employment and Skills) and Education Taskforce throughout the G20 Presidencies of Australia, Turkey, China, Germany, Argentina, Saudi Arabia, Italy, Indonesia, and India (2023). He is also an influential voice on Digital Transformation and Trade & Investment.
2. Jason Ma plays a pivotal role as a leading Advisory Council member at the St. Jude Children's Research Hospital/ALSAC, which provides vital support to St. Jude in its mission to "Find cures, Save children." St. Jude's operating expenditures, which exceed $2 billion per year, are primarily funded by generous private donors. ALSAC, St. Jude's fundraising and awareness organization, is America's largest healthcare-related charity. As a strategist, Jason has pro bono guided St. Jude/ALSAC West Leadership in developing a Family Office outreach and engagement strategy, fostering connections with Family Offices, HNWIs, and Next Gens, as well as on leadership development. He has facilitated introductions between the Leadership Team and influential VIPs, enhancing fundraising efforts.
3. As a partner, Jason Ma supports Silicon Valley Community Foundation (SVCF), the United States' largest community foundation, which has managed over $16 billion in charitable assets. SVCF serves as California's largest grantmaker, issuing over $2 billion in grants annually. SVCF is dedicated to helping individuals, families, and organizations achieve their philanthropic aspirations. ThreeEQ Foundation, a small donor-advised fund (DAF), has worked through SVCF as part of Jason's philanthropy.
4. Jason and his wife support Christ Community Church in Milpitas (C3) in Silicon Valley. A glimpse into Jason's spiritual journey can be witnessed through his 3 inspiring brief testimonies at the church, including his baptism as a tail-end boomer on Easter Sunday 2021. He holds dear numerous guiding Bible verses, including 1 Corinthians 13:13 and Philippians 4:13, among others.
5. Jason supports TBC.city, an empowering initiative founded and chaired by Intel CEO Pat Gelsinger and led by CEO Nancy Ortberg. TBC unites leaders to ignite a gospel movement in the Bay Area. Furthermore, Jason Ma served as a facilitator at Faith Driven Entrepreneur, an organization dedicated to helping entrepreneurs and professionals discover their community and fulfill their God-given calling to create.
.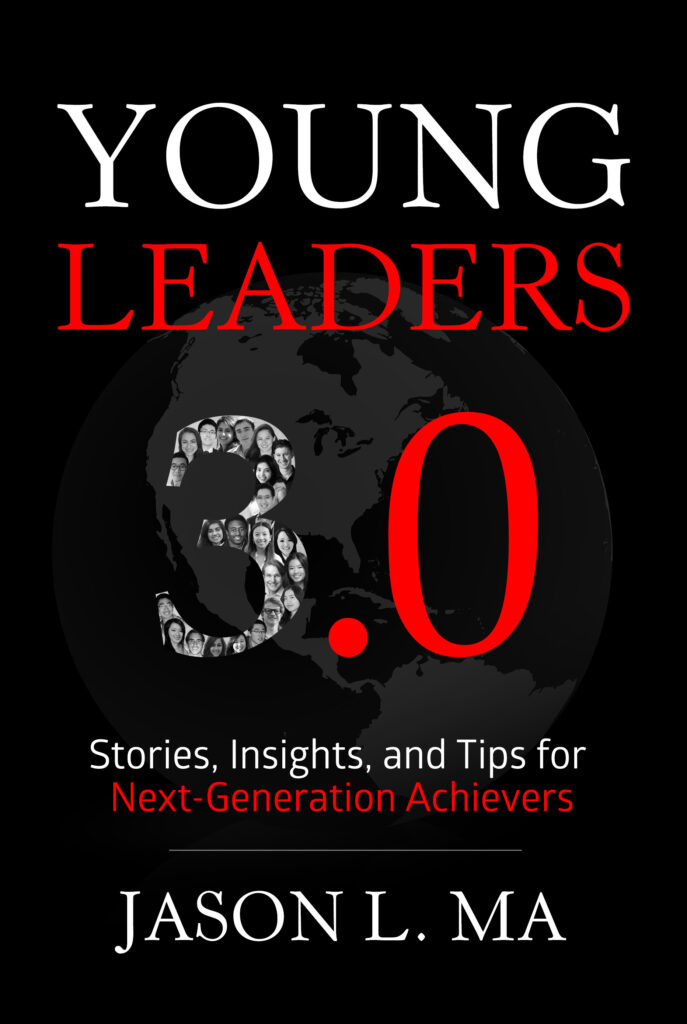 YOUNG LEADERS 3.0 ACCLAIMED BOOK TEAM
.
Author Jason Ma's groundbreaking book, Young Leaders 3.0: Stories, Insights, and Tips for Next-Generation Achievers, has received high acclaim. The book features 23 exemplary 17-to-24-year-old (Gen Z and Millennial) high achievers, over half of whom were Jason's students/mentees from prestigious universities including the Ivy League universities (Brown, Columbia, Cornell, Dartmouth, Harvard, Penn, Princeton, and Yale), Babson, Bowdoin, Colgate, Georgetown, Georgia Tech, MIT, Northwestern, Oxford, Stanford, UC Berkeley, UCLA, UChicago, and USC.
Young Leaders 3.0 takes a human and multifaceted approach to these young leaders' achievements and growth, going beyond traditional markers of success like GPAs, standardized test scores, and resumes. It provides an inside look at personal successes and failures, along with valuable lessons learned and proven strategies for young people to get ahead in life with well-being. It is an essential read for anyone seeking inspiration and guidance on the path to success.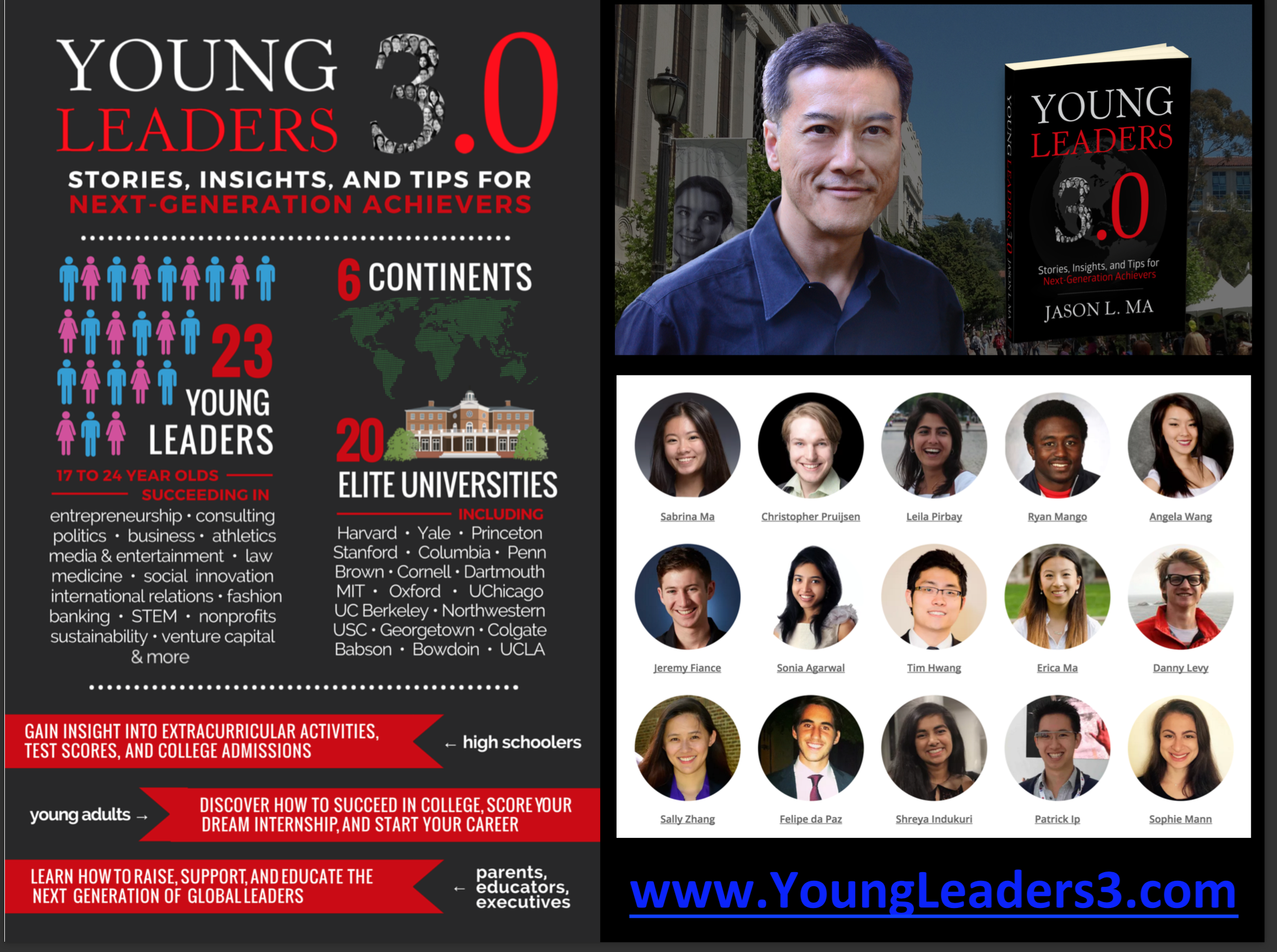 ADVISORY BOARD
.

We at ThreeEQ celebrate the success and growth of our Private Client Families, Companies, and Individuals. Our Team, including editors, advisors, and support staff, shares the vision and values of our founder, Jason Ma. We are privileged to have access to best-in-class, proprietary mentorship and business methodologies, as well as high-powered global connections.
Our Advisory Board members include:
Alfred Chuang
The CEO's CEO, authored by Ben Horowitz, Co-Founder and General Partner, Andreessen Horowitz
Founder and former Chairman and CEO, BEA Systems (acquired by Oracle for $8.5 billion in 2008)
Don Levy
President and Cultivator, Smith Brook Farm
Visiting Scholar and Consultant, USC, and Faculty, Boston University
Former Senior Vice President, Marketing and Communications, Sony Pictures
Mark Minevich
Investor, UN Advisor, AI Advocate and Innovator
Chair, Executive Committee and External Affairs, AI for Good Foundation
President, Going Global Ventures

Asian Advisory Board Member, Ecole Hoteliere de Lausanne
Advisory Board Member, S.P. Jain School of Global Management
Recognized Global Thought Leader in Supply Chain Management
Selected as One of the 40 New Asian Leaders by the World Economic Forum in 2004


.

GALLERY
Please visit ThreeEQ.com/Photo. A few of the photos are shown here.