.
LEADERSHIP
JASON L. MA 馬良傑
Founder, CEO, and Chief Mentor
ThreeEQ, Inc.
> Global Education & Business Leader
> Foremost Mentor, Rainmaker, & Speaker
.
CHIEF MENTOR OF NEXT-GEN LEADERS, guiding 1-on-1 high achievers in select client families for Ivy League and highly competitive college admissions, leadership 3.0, university life, coveted internship, high-end career, and personal success. In addition:
CEO/BOARD ADVISOR, ACTING C-SUITE/SENIOR LEADER (GLOBAL BUSINESS STRATEGY & RAINMAKING), & CEO/EXECUTIVE COACH for select (tech) companies, family enterprises, and family offices [see BIOGRAPHY (CATEGORIZED) below]. Additionally:
Member, The B20 in The G20, on the Future of Work & Education Taskforce
Member, Global Advisory Council, World Chinese Economic Summit

Member, NorCal Advisory Council, ALSAC/St. Jude Children's Research Hospital

Member, Steering Committee, DC Finance (Family office & HNW conferences)

Member, C-Suite Committee, Astia (Investor group led by a woman CEO)

Member, Global Executive Panel, HolonIQ (Education/edtech industry research)

Delegate, Forbes Global CEO Conference (8 years before Forbes was acquired)


.
KEYNOTE/FIRESIDE/PANEL SPEAKER, MODERATOR, & MASTERCLASS LEADER (with own professional speakership platform and also represented by leading speaker bureaus around the world). In addition:
Keynote speaker and masterclass leader co-sponsored by alumni clubs from
–  Harvard Business School
–  Harvard
–  Stanford Graduate School of Business
–  UC Berkeley Haas


–  Wharton

Guest lecturer, Stanford University

Guest lecturer, UC Berkeley



Jason Ma | Christ Community Church of Milpitas | CCCM

JASON MA'S
.
Click to open and view.
BIOGRAPHY (CATEGORIZED)

.

Jason L. Ma is the founder, CEO, and Chief Mentor at ThreeEQ, a family-owned, premier education and global (tech) business consultancy. ThreeEQ is also deeply engaged in applied research. Jason earned his way to being a delegate to the Forbes Global CEO Conference (attended by mainly billionaires and UHNWIs) for 8 years before Forbes Media was acquired by an Asian firm. Since 2014, Jason has been Silicon Valley's leading member of the Future of Work and Education Taskforce at the B20, the G20's private sector advisory council representing the global business community across all G20 economies. The following is Jason's profile by role or category.

As a global business and education leader, entrepreneur, and investor, Jason Ma has 36 years of experience in technology, education, and other industries, and nearly 3 million miles of world travel across Asia Pacific, Europe/Middle East, and the Americas. Earlier in his career, as a senior executive, he co-built leading tech companies (subsequent IPO or M&A) and teams, as well as led the international sales and marketing of mobile/wireless infrastructure equipment and systems, IT/network security products and systems, and Internet services to major mobile operators, telcos, enterprises, government agencies, and ISPs primarily across Greater China, Southeast Asia, Australia/NZ, India/South Asia, Japan, and South Korea.

As an entrepreneurial C-suite leader and strategist, he co-founded, invested in, and astutely exited a few U.S., Chinese, and Indian tech companies in mobile payment, e-payment, new media, education technology (edtech) platform/SaaS, and education services. He has also advised family offices and firms in private equity, venture capital, hedge funds, wealth management, private banking, investment banking, management consulting, and real estate.

As a loving father, observant globetrotter, and edtech CEO, 13 years ago, Jason Ma saw that most young people (including his own two daughters) felt a bit angsty or lost, that high achievers were overstressed or overanxious, and that almost all students had yet to unleash their full potential and actualize their best selves. Wasted or untapped potential, leaving future money on the table, he thought. What if I help them really shine, win, grow, and be happier—with greater impact and long-term gains?

Jason also noticed a dearth of truly high-quality, next-generation leaders around the world. He decided to dedicate his second career to transforming next-gen achievers, preparing them for admission to great universities, mentoring them to develop powerful mindsets and soft skills, and guiding them to enter and thrive in high-end careers as rising, impactful leaders.

In 2007, he co-founded IvyMax, a private college counseling, test prep, and academic and activity enrichment services company, by executing the international merger of a chain of learning centers (run by a family) and an education technology and SaaS startup, of which he was co-founder and CEO and for which he brought in Eric Yuan and renowned faculty from Stanford and UC Berkeley as investors and advisors. (Jason saw Eric giving birth to Zoom as its founder and CEO; Eric is now on the Forbes 400). Because Saturday and Sunday meetings were more convenient for most families, Jason worked full time every weekend for a few years. 

In late 2011, Jason departed IvyMax via a mutual agreement. In the process, he reclaimed his weekends and freed himself up to pursue his next-level mission. That was when he founded ThreeEQ, with an initial focus on providing deep, powerful, 1-on-1 mentorship and guidance for motivated students in selected, high-end client families worldwide. Jason operated under a flexible, cost-effective "global virtual office" model, using Zoom whenever he was somewhere quiet with reliable Internet access. 

As Chief Mentor of Next-Gen Leaders known in high-level circles today, Jason Ma and Team ThreeEQ are the next generation's foremost mentor and coach for (Ivy League and highly competitive) college admissions, high-end career, leadership 3.0, and life success. Jason has masterfully and successfully inspired and guided 1-on-1 numerous Gen Z and elder achievers in selected families and companies to accomplish great results, live more happily, and transform upward—with pragmatic emotional, social, and leadership intelligence ("3EQ") for greater impact and long-term gains.

Over the past 13 years, Jason's own 1-on-1 success mentoring and coaching method, which became exceptionally effective, has transformed hundreds of driven high school and college students, working adults, and even C-suite leaders (Gen Z, Millennial, and Gen X achievers), helping them achieve strong outcomes. Many of these students gained acceptance into the eight Ivy League universities and other top private and public schools, and more than 100 were admitted to UC Berkeley and UCLA. With ThreeEQ's guidance, families gain peace of mind, enrich relationships, and mitigate the risk of opportunity loss—all with sound family values. Jason also helps ease legacy and succession planning for UHNW families.

A wealth of factors make ThreeEQ different, including a 100% success rate (defined by outcomes that clients are happy about) with coachable, committed, high-achieving students in selected HNW client families. ThreeEQ understands EXACTLY how Ivy League and highly competitive colleges make their admissions decisions. But Jason's work is MORE PROFOUND than just helping kids get into college—because college ISN'T their destination but, rather, is PART of their JOURNEY and a steppingstone to greater career and personal success. Just as vital are his students' growth, contributions, identities, relationships, and happiness for years to come.

Jason also helped guide brilliant, young entrepreneurs in technology and sciences as a Thiel Fellowship mentor and a Kairos Society mentor.

As a CEO/board advisor, acting C-suite/senior leader (global business strategy and rainmaking), and C-suite/executive coach today, besides helping the Next Gen and families achieve great outcomes, ThreeEQ CEO/Chief Mentor Jason Ma personally helps selected (tech) companies, UHNW family enterprises, and family offices progress strategically and pragmatically to next levels and/or increase market value and ROI. Depending on the client's business and needs, Jason addresses U.S. and international/Asia Pacific/China business/revenue growth, world affairs, corporate/business development, fundraising, venture/strategic investment, private equity/M&A, digital transformation, HR/human capital, succession planning, the future of work and education, and/or (multigenerational, cross-cultural, diverse, and inclusive) leadership 3.0.

To do so, Jason applies his consummate repertoire and business acumen, and engages his high-powered, global network of tycoons, Forbes Global CEOs, Fortune 500 C-suites, G20 private and public sector leaders, family offices, UHNWIs, and other decision-makers. Jason was a Forbes Global CEO Conference delegate for 8 years before Forbes Media was acquired by an Asian firm, and was a Pacific Basin Economic Council member.

Currently, Jason serves as
CEO Advisor, TraDove (B2B blockchain payment solution and B2B social media/networking)
CEO Advisor, CodeRev Kids [K-12 STEM/computer science education technology and services, learning management system (LMS)]
CEO Advisor, DeepBench (Enterprise/B2B software/SaaS platform and expert network services)
Advisor, Skyworks Global [Vertical takeoff and landing (VTOL) aircraft/aviation]
Advisor, Heather James Fine Art (Artwork valued at 6- to 8-figure USDs apiece)
Investor and one of the world's top experts, Audvisor (Mobile learning platform and app)*
Member, Future of Work and Education Taskforce, The B20/G20
Member, Northern California Advisory Council, ALSAC/St. Jude Children's Research Hospital
Member, C-suite Committee, Astia (Investor group led by a woman CEO)
Member, Steering Committee, DC Finance (Family office conferences)
Member, Global Executive Panel, HolonIQ (Education/edtech industry research)
Member, Global Advisory Council, World Chinese Economic Summit
* Audvisor fellow top experts include Tom Peters, Mark Thompson, Seth Godin, Heidi Roizen, Vinod Khosla, Guy Kawasaki, and about 100 others.

Additionally, Jason is privately a C-suite coach to select CEOs/senior executives, helping them take their own business and personal/family successes to the next levels. 

As an appointed, leading member of the B20 in the G20, Jason Ma serves on the Future of Work and Education Taskforce while observing Digital Transformation and Trade & Investment. Since 2014, and spanning through the G20 and B20 presidencies in Australia, Turkey, China, Germany, Argentina, and Saudi Arabia in 2020, Jason has been one of only a few hundred business leaders worldwide handpicked to be B20 members.

The B20 is the official voice of the private sector to the G20 Heads of State and governments, representing the global business community across all G20 member states and economic sectors. The B20 develops policy recommendations for, and leads engagement, with the G20, which represents over 80% of the global nominal GDP of nearly US$90 trillion and 2/3 of the worldwide population of 7.8 billion people. The G20 consists of Argentina, Australia, Brazil, Canada, China, Germany, France, India, Indonesia, Italy, Japan, Mexico, Russia, Saudi Arabia, South Africa, South Korea, Turkey, the United Kingdom, the United States, and the European Union. 

As a globally sought-after keynote/fireside/panel speaker, moderator, group coach, and masterclass leader, Jason Ma inspires, captivates, and enlightens audiences from Gen Z to parents to CEOs to government leaders to billionaires on a variety of TOPICS (listed on his professional speaking page).

Jason has spoken at some of the most elite events and places around the world. These include global CEO/business conferences, B20 forums representing the G20 business community, tech industry and corporate events, World Chinese Economic Summit, Horasis' Global China and India Business Meetings, Family Office Association, DC Finance, and other family office conferences and meetings, HNW family private events, education summits, Stanford University, UC Berkeley, INSEAD, and Los Angeles Unified School District, as well as special events co-sponsored by alumni clubs from Harvard Business School, Harvard, Stanford Graduate School of Business, UC Berkeley Haas, and Wharton.

In addition to his own professional speaking platform, Jason is represented by leading speakers bureaus worldwide, including All American Entertainment, A-Speakers, Champions Speakers, Executive Speakers Bureau, Harry Walker Agency, London Speaker Bureau, MFL Global, and Speaker Booking Agency.

As an influential author and media contributor, Jason Ma wrote the critically acclaimed book Young Leaders 3.0: Stories, Insights, and Tips for Next-Generation Achievers. Over 1/2 of the 23 featured 17-to-24-year-old high achievers and chapter contributors were Jason's students, who hail from the 8 Ivy League universities (Brown, Columbia, Cornell, Dartmouth, Harvard, Penn, Princeton, and Yale), as well as from Babson, Bowdoin, Colgate, Georgetown, Georgia Tech, MIT, Northwestern, Oxford, Stanford, UC Berkeley, UCLA, UChicago, and USC. 

Jason is the former Forbes contributor on "Mentoring Young Leaders" for elite college prep and admissions, higher education, next-generation leadership, and entrepreneurship success—with more than 1.5 million views and counting. He also authored Gen Z: Understanding Tomorrow's Digital Workers in eBook format. Throughout his career, Jason has been featured in the Family Office Association Chairman's Live Event and Podcast, Silicon Valley Insider, CNBC Asia (Managing Asia and Squawk Box), Business Rockstars, Fast Company, Asian Wall Street Journal, South China Morning Post, Nikkei, Channel NewsAsia, WealthBriefingAsia, JustLuxe, India West, Teen Kids News, various radio shows, and other media.

Clientele Luxury Global Magazine featured Jason as one of its eight "Industry Men of 2020" for his "Leadership 3.0 Intelligence," while Black Tie International Magazine named him the "Preeminent Mentor for Next-Gen Leaders."

As a philanthropist, Jason believes in giving to communities both global and local. He positively influences people and businesses as a leading volunteer member of the B20 in the G20. ThreeEQ Foundation, a small donor-advised fund, works with the Silicon Valley Community Foundation to help causes that assist the disadvantaged. Also, ThreeEQ donates pro bono services to select charities.

As a student, Jason is a passionate lifelong learner and applied researcher. In 1984, he earned a B.S. degree in Industrial Engineering and Operations Research at UC Berkeley College of Engineering. Jason began attending the evening MBA program at Santa Clara University Leavey Graduate School of Business in 1989 but had to leave a few years later because his international tech sales/marketing management career demanded travel that interfered with his class time.

As a father today, Jason values unconditional love, humor, and high standards in what matters. In his own family (playfully called the "MAfia"), he and his wife are blessed and grateful to have two happy, compassionate Gen Z daughters—a Google software engineer and emerging leader, and a Wharton junior. Both have tech industry leadership aspirations.
PAST WORK EXPERIENCE

.

In reverse-chronological order:

Bright Scholar Education Holdings Limited – Strategic Advisor (2017 – 2018)
Bright Scholar (NYSE: BEDU) is the largest operator of international (K-12) and bilingual schools in China. Its chairman is multi-billionaire Yang Huiyan, Asia's wealthiest woman and Vice Chairman of Country Garden, one of the world's top three real estate developers. Jason strategically advised the VP of new business development, as well as thoroughly researched, identified, approached, and engaged potential U.S. top private K-12 schools and elite universities to create strategic partnerships. He helped close initial agreements/memorandums of understanding (MOUs) with Columbia University, UC Berkeley, and the University of Pennsylvania Graduate School of Education. Jason also orchestrated a private meeting between Blackstone Group Chairman and CEO Steve Schwarzman and Ms. Yang and her team at his office in NYC. (Jason attended BEDU's IPO party in NYC in May 2017.)

Crystal Springs Resort – Senior Advisor to the Owners (2017 – 2018)
Crystal Springs Resort is the NYC metro area's premier golf and hotel resort, consisting of 2 hotels, 6 golf courses (including a few of New Jersey's top-rated ones), 2 spas, 9 restaurants (including New Jersey's finest restaurant), a sports club, horseback riding, an adventure center, and North America's second-largest fine wine cellar. Jason strategically advised the then-controlling owner, a New York-based finance and investment banking mogul. He also provided private equity help by identifying, approaching, and engaging potential acquirers/buyers, which included Asian and Middle East conglomerates and billionaires.

Forbes – Contributor (2011 – 2016)
Jason Ma's Forbes blog on Mentoring Young Leaders for U.S. elite college admissions, unconventional higher education, next-gen leadership, entrepreneurship, and mentorship success (forbes.com/sites/jasonma) has yielded more than 1.5 million views and counting. His Forbes articles are:

12. How Mentors Shape Moguls, CEOs, Celebrities, and the Next Generation of Leaders
11. How Unconventional, Experiential Learning Is Reshaping Higher Education
10. Twelve of Today's Most Impressive Young Entrepreneurs
  9. How to Handle College Admissions Rejections
  8. Lessons Learned, Reflections, and Advice from a Harvard Student Leader
  7. Student Entrepreneurship Is Humming at Elite Universities
  6. When to Say No to Harvard
  5. Advice on Applying to Top US Colleges via Early Decision or Early Action
  4. Why to Start Preparing for College in Sixth Grade
  3. College Apps Cheating Scandal Is a Learning Moment for China
  2. What It Takes to Get Into UC Berkeley
  1. College Apps: Stanford, Anyone?

IvyMax, Inc. – Co-Founder, Interim CEO, and Senior College Counselor (2006 – 2011)
IvyMax was a leading chain of learning centers across California and in Beijing, China, and an in-center and online provider of college counseling, test prep, academic enrichment, summer camp, and other educational services that prepared students for admission to top-tier colleges and universities and beyond. Jason Ma co-founded the company by leading and executing the merger of a U.S. chain of learning centers and a Chinese education technology and SaaS startup, of which he was co-founder and CEO. Under a Cayman Islands holding company, the latter had engineering and market operations based in Beijing, China, and the U.S.

Jason brought in renowned CEOs/senior executives—including Zoom founder and CEO (then Cisco/Webex corporate VP) Eric Yuan, a former Stanford University Provost, and Stanford and UC Berkeley professors—as investors and advisors. He was instrumental in orchestrating the Board of Directors and maintaining the cap table.

As senior college counselor, along with a team of editors and support staff, Jason inspired and provided 1-on-1 guidance to hundreds of high school and college transfer students, who were primarily from immigrant Asian/Chinese American families, in gaining admission to top colleges and universities and beyond. Besides counseling students and parents, he worked closely with fellow co-founders and management on strategic and tactical marketing efforts. Most American staff looked to him as their internal mentor.

GLG Council – Leader (Top 5%), Education/EdTech and Technology/Media/Telecom (TMT) in the U.S. & Asia/China (2006 – 2014)
Jason Ma counseled managing directors, principals, and industry research analysts in top and boutique financial services firms (private equity, venture capital, alternative assets, hedge fund, and investment banking) and management consulting firms—many of the big names on Wall Street and Main Street.

Congruent Partners LLC – Founder and CEO (2002 – 2011)
Congruent Partners was an international consulting firm that provided independent board director, board advisor, and acting CEO, CMO, and VP of sales/marketing services for tech companies in the U.S. and Asia.

Silicon Valley-China Wireless Technology Association – Senior Advisor (2001 – 2011)
SVCWireless was Silicon Valley's leading professional association with interests in the Chinese mobile and wireless communications industry. Over ten years, Jason mentored five different presidents.

WithyaDirect (U.S. and India) – Co-Founder, Board Advisor, and Acting CEO (2004 – 2005)
WithyaDirect was a cross-border, new media startup based in Silicon Valley and in Gurgaon, near New Delhi, India.

AaaHaa Media (China) – Board Member, Advisor, and Investor (2003 – 2005)
AaaHaa Media (renamed from PRCDirect) was a call center that became a new media service company based in Guangzhou, Guangdong Province, China. It focused on the Greater China markets (China, Hong Kong, and Taiwan).


Pacific Epoch (China) – Advisory Board Member (2004 – 2005)
Pacific Epoch was a TMT market research firm in Shanghai, China that partnered with Jason's firm, Congruent Partners.

Strategic Alliance WorldGroup, Inc. – Chief Marketing Officer (2003 – 2004)
SAWG was an outsourced international business development, marketing, and sales services company for technology companies looking to expand worldwide.

YeePay (China) – Co-Founder, Interim EVP of Corporate Development, and Chief Strategy Officer; Investor (2002 – 2003)
YeePay (renamed from MobileBest) is a leading e-payment and mobile payment service provider in China with a Cayman Islands holding company, backed by top-tier VC firms, including DFJ/Tim Draper, and angel investors. It competed against Alibaba's AliPay and other players. Jason Ma helped craft the business plan, put together a detailed business financial model, and mentored its CEO. Years later, he successfully exited by selling his founder common shares and Series A shares to the Series D leading investor.


Asia-Silicon Valley Connection (ASVC) – Founding Chair, Charter Members Committee (2001)
In this professional association, Jason led the building and management of the paid premium membership of a microcosm (about 150) of top decision-makers and influencers across Silicon Valley. They were general partners (GPs) at top-tier venture capital firms, tech CEOs, senior executives, partners at major law, tax/accounting, and consulting firms, and a few university professors. The membership included a range of centimillionaires. Jason's efforts helped spark the social networking movement in Silicon Valley.


iPass Inc. – Managing Director, Asia Pacific and Japan (1997 – 2000)
Along with Netscape, iPass (Nasdaq: IPAS) was a prominent Internet services pioneer founded in the mid-90s. It was the world's leading global Internet roaming, corporate remote access, and cross-network settlement/clearinghouse services provider. iPass technology partners included Cisco Systems and various network systems vendors. Jason led the building and running of Asia Pacific sales and marketing, bringing in over 50% of global company revenue from Internet service providers (ISPs), carriers/telcos, channel partners, and enterprises during the company's early stages and achieving a dominant or leading market leadership position in nearly all target markets across Greater China, Japan, Southeast Asia, Australasia, Indian Subcontinent, and South Korea. 

iPass APAC customers and partners included the ISPs and corporate data network services business units of NTT, NEC, Fujitsu, KDD, Sony, Japan Telecom, Hong Kong Telecom, PCCW, Hutchison, China Telecom, China Netcom, Singapore Telecom, Pacific Internet, Telstra, OzeMail, Telecom New Zealand, Malaysia Telecom, SK Telecom, Korea Telecom, VSNL, and more than 100 other ISP/carrier partners and, through channel partners, enterprise customers. Jason was also instrumental in expanding the iPass global network of access points across APAC. He set up and ran offices with regional staff in Tokyo, Japan; Hong Kong, China; Singapore; and Sydney, Australia.


Celcore Inc. – Managing Director, Asia Pacific; Director, International Sales and Marketing (1995 – 1997)
Headquartered in Memphis, Tennessee, Celcore was a leading low-density cellular/mobile communication network infrastructure equipment and systems provider that included mobile switching centers, base stations, and network management system (NMS) and that competed against giant equipment/systems suppliers including Ericsson, Motorola, Nokia, and Siemens. Jason built and ran direct and channel sales and marketing to major mobile and telecom operators in Asia Pacific, including Indonesia, Malaysia, China, Pakistan, and other markets. The average sales deals were in the 7-figures. Celcore was subsequently acquired by DSC Communications, which itself was later acquired by Alcatel.


Peninsula Wireless Communications – Managing Director, Asia Pacific (1993 – 1995)
Peninsula Wireless Communications (named changed from Peninsula Engineering) was a leading microwave transmission repeater, cellular microcell, and cellular repeater (fixed and mobile wireless network infrastructure) equipment and systems provider to telcos, wireless/mobile operators, and OEMs in markets worldwide. Jason Ma ran sales and marketing operations in Asia Pacific, including mainland China, Hong Kong, South Korea, Southeast Asia, Australasia, and the Indian Subcontinent. Major direct customers included China Telecom (before China Mobile was spun out), Hong Kong Telecom (HKT)/CSL, Hutchison, Singapore Telecom, LG, SK Telecom, etc. In China, Jason managed the team at the Peninsula Representative Office in Beijing and led selling to nearly all major China Telecom provincial telcos/PTTs. Peninsula subsequently changed its name again and went public in Nasdaq.

Cylink Corporation – Regional Director, Pacific Rim (1993)
Cylink was a leading IT and network security (encryption) and wireless communication product and systems vendor. Jason built and ran direct and channel sales and marketing operations serving various enterprises (e.g., Blue Chip banks and enterprises), government agencies (e.g., Australian Federal Police), telcos, and network services operators in Japan, Australia, New Zealand, and Indian Subcontinent.

Digital Microwave Corporation – Area Sales Manager, Asia Pacific (1991 – 1992)
DMC (Nasdaq: DMIC) was a leading digital microwave transmission network equipment/systems vendor headquartered in Silicon Valley. The International Sales headquarters was in Scotland, United Kingdom, and the APAC HQ and a manufacturing joint venture were in KL, Malaysia. Jason built and ran mostly indirect sales through in-country agents serving major government-owned and private sector mobile operators and telcos in parts of Southeast and East Asia. His large end customers included AIS and TOT (large tenders were common) in Thailand, PT Telekomunikasi Indonesia (Telkom), and Singapore Telecom. Jason ran a local DMC office in Jakarta, Indonesia. Sales deal sizes ranged from 6- to 7-figure USDs.


Fujitsu America, Inc. – Project Manager and Network Assurance Manager, Private Networks Division (1988 – 1991)

DCA/Cohesive Network – Software Design Engineer (1987 – 1988)

Tymnet/McDonnell Douglas Network Systems Company – Systems Analyst, Network Analysis and Design; Network Operations Analyst, Management Sciences (1984 – 1987)


TESTIMONIALS, ACCOLADES, & DIFFERENTIATIONS
.
Please enjoy

OPERATING TEAM
.
We at ThreeEQ rejoice when our clients win, grow, and succeed. Our seasoned team, which includes editors, advisors, and staff, shares our founder Jason Ma's vision and values, which include high standards in what matters. We are blessed with best-in-class, proprietary methodologies and know-how, as well as high-powered global connections. 
..

CHIEF MENTOR OF NEXT-GEN LEADERS: FOREMOST MENTOR FOR IVY LEAGUE/ELITE COLLEGE ADMISSIONS, HIGH-END CAREER, LEADERSHIP 3.0, & PERSONAL SUCCESS
.
Please see ThreeEQ.com/Services. Please feel free to email us.

CEO/BOARD ADVISOR, GLOBAL (TECH) BUSINESS STRATEGIST & RAINMAKER, & C-SUITE/EXECUTIVE COACH
.
Please see ThreeEQ.com/Enterprises. Please feel free to email us.

KEYNOTE/FIRESIDE/PANEL SPEAKER, MODERATOR, & MASTERCLASS LEADER
.
Please visit ThreeEQ.com/Speaking. Feel free to email us.

MEMBER OF THE B20, THE OFFICIAL VOICE OF THE PRIVATE SECTOR TO THE G20 HEADS OF STATE AND GOVERNMENTS
.
Learn more at B20 Saudi Arabia for the current year, 2020. Please enjoy our related gallery. Feel free to email us with any pragmatic suggestions or ideas.

FORBES & MEDIA CONTRIBUTOR
.
Please visit ThreeEQ.com/Media. Feel free to email us.
.

YOUNG LEADERS 3.0 BOOK TEAM
.
We are grateful for the fine work by our team of 30 people, including 23 exemplary 17-to-24-year-old leaders and chapter contributors, and support cast, in the creation and production of Young Leaders 3.0: Stories, Insights, and Tips for Next-Generation Achievers by Jason Ma. This is a critically acclaimed and groundbreaking book published in December 2014.
.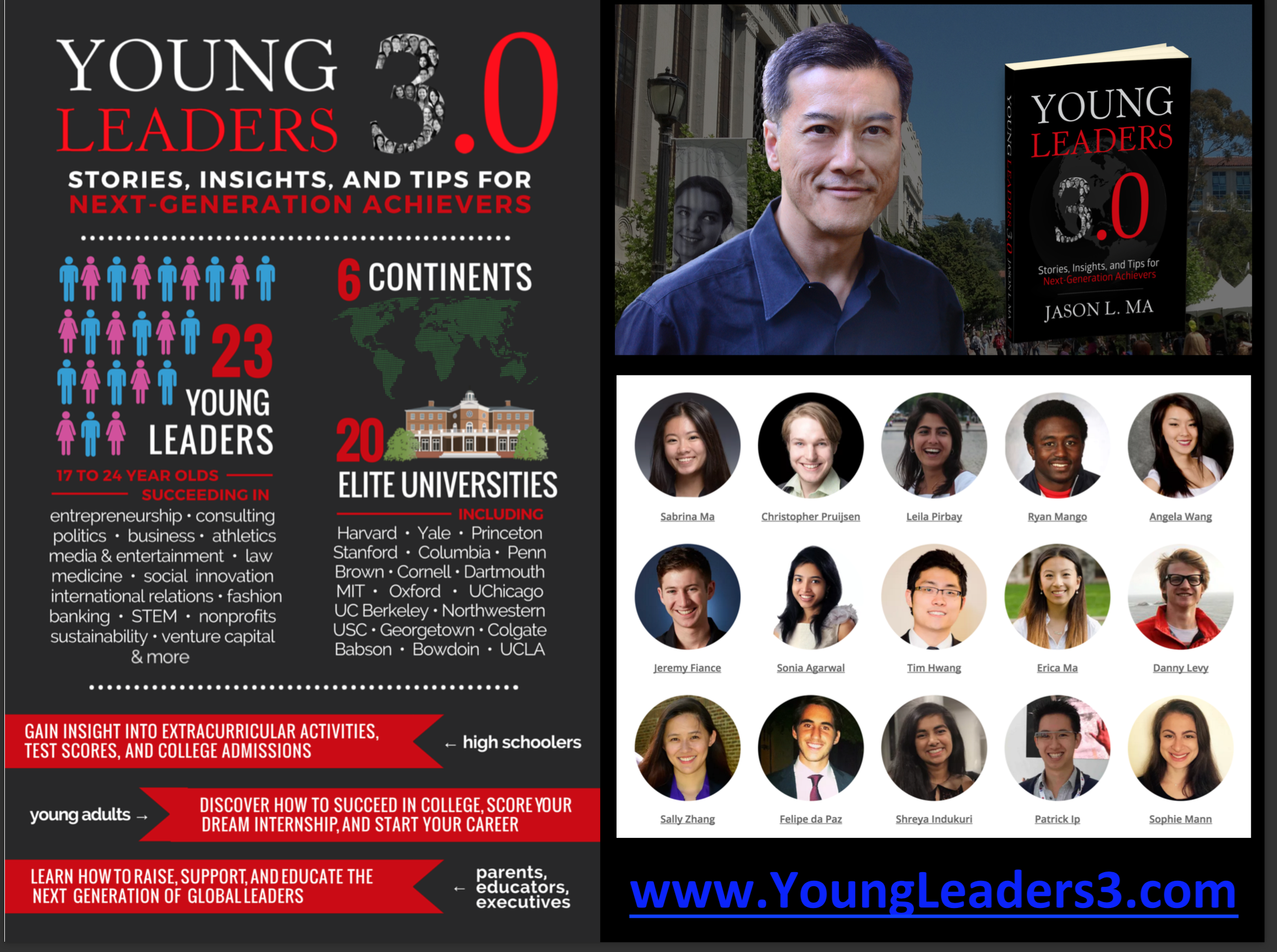 ADVISORY BOARD
.
Alfred Chuang
Founder & Former Chairman & CEO, BEA Systems (Acquired by Oracle for $8.5 billion in 2008)
The CEO's CEO by Ben Horowitz, Co-Founder & General Partner, Andreessen Horowitz
Don Levy
President and Cultivator, Smith Brook Farm
Visiting Scholar & Consultant, USC, and Faculty, Boston University
Former Senior Vice President, Marketing and Communications, Sony Pictures
Mark Minevich
To learn about Mr. Minevich, please view his website above.
Martin Roll
Business & Brand Strategist, Martin Roll Company
Senior Advisor, McKinsey & Company
Best-selling author of Asian Brand Strategy
Global Keynote Speaker, Conference Moderator, C-Level Advisor/Mentor
Asian Advisory Board Member, Ecole Hoteliere de Lausanne
Advisory Board Member, S.P. Jain School of Global Management
Recognized Global Thought Leader in Supply Chain Management
Selected as One of the 40 New Asian Leaders by the World Economic Forum in 2004

GALLERY (G20 HEADS OF STATE, FORBES GLOBAL CEOs, etc.)
.
Please visit ThreeEQ.com/Photos.

ThreeEQ is a member of the National Association for College Admission Counseling (NACAC).