As a thought leader, ThreeEQ Founder and CEO Jason Ma 馬良傑 contributes actively to the press and to corporate and education leadership communities worldwide. If you are from the press or a community of great minds and would like to interview Mr. Ma or invite him to speak, please contact us. Thank you!
Dear Show Hosts and Producers:
Discover a wealth of story ideas from Jason Ma under the TOPICS section on his Professional Speaking page. Let's collaborate to create compelling headlines and stories that inspire and enlighten your audience. Please don't hesitate to email us.
Thank you,
Team ThreeEQ
---

Articles & Columns
Events & News
View ThreeEQ on Facebook for additional exciting ThreeEQ News and Events (updated November 24, 2023).

7 November 2023 — KSI Strategic Institute for Asia Pacific
Jason Ma Speaks at the 2023 Global Chinese Economic & Technology Summit
Celebrating a decade of participation, ThreeEQ CEO Jason Ma once again contributed his expertise by speaking (virtually) at the Global Chinese Economic & Technology Summit (formerly known as the World Chinese Economic Summit). This prestigious event annually brings together eminent leaders from China, Southeast Asia, the global Chinese diaspora, and the West. As a distinguished Chinese American figure in business and education, Jason shared insights and strategies on the "Entrepreneurship and Startups – Lessons, Strategies, Opportunities" panel, inspiring attendees with his wealth of experience and knowledge.

15 September 2023 — ThreeEQ
It's Heartwarming to Watch Our Former Students and Mentees Flourish as Next-Gen Leaders
We are thrilled to share stories of our mentees' remarkable achievements. ThreeEQ CEO Jason Ma recently caught up in person with a few standouts he mentored during their high school and college years. Discover the journeys of Youyang Gu, a "Covid-19 Data Superstar" featured in Bloomberg, Christopher Lau, a Y Combinator startup co-founder, and Ivy Xing, a Wealthfront Staff Engineer. Mr. Ma also takes a moment to acknowledge his two Gen Z daughters, now successful professionals at Google and Salesforce/Slack, happy and compassionate young leaders, and former mentees. For more inspiring success stories, visit our Testimonials.

25-27 August & 9-10 September 2023 — The B20 / G20
Jason Ma Reflects on the B20 Summit India as a Significant Precursor to the G20 Summit 2023
The G20 Summit, featuring the Presidents and Prime Ministers of the top 20 economies and some +1s, is set to take place in New Delhi on 9-10 September.  Longstanding B20 member and ThreeEQ CEO Jason Ma reflected on his experience at the spectacular B20 Summit India held in Delhi from 25-27 August. During this summit, B20 India delivered its Communique of private sector policy recommendations to the G20, which is presided by India and chaired by Prime Minister Modi in 2023. Additionally, the B20 baton was handed from India to Brazil for 2024.

Videos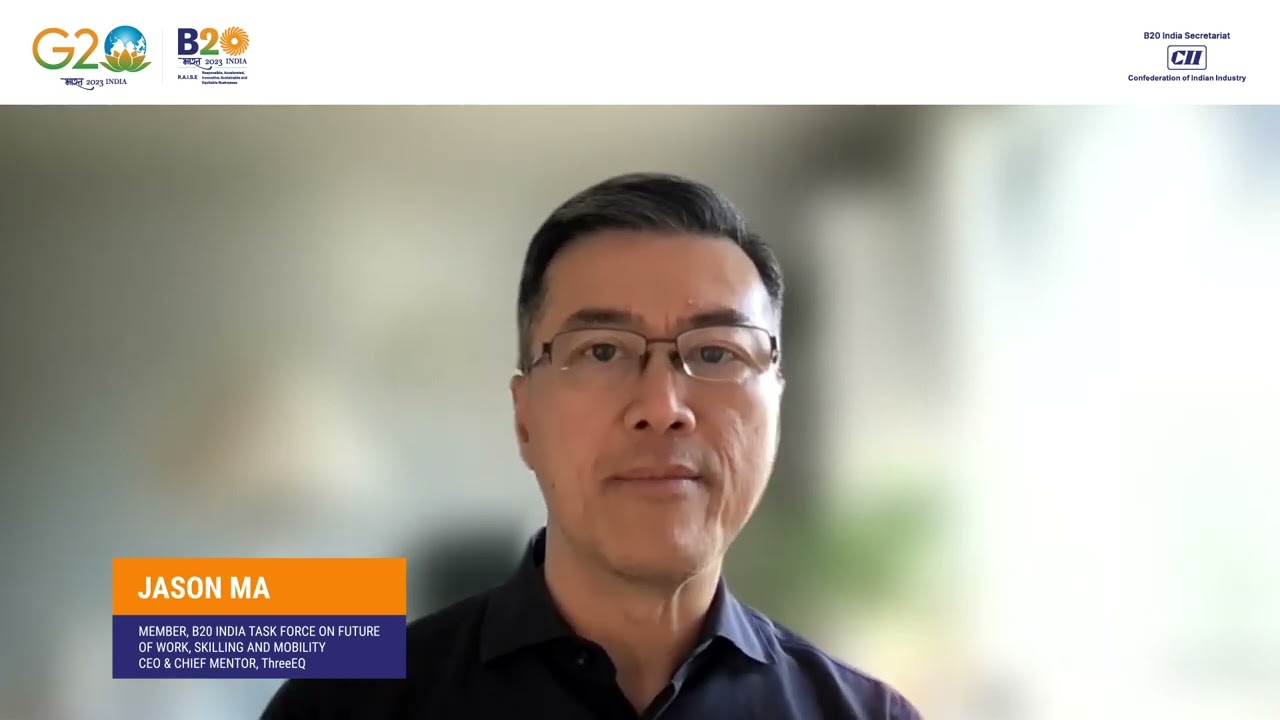 Leading B20 member Jason Ma is honored to share a few thoughts on behalf of B20 India prior to the B20 Summit India in this short video. The B20 is the official G20 forum for the global business community. Indian Prime Minister Modi chairs the G20 presidency in 2023. Mr. Ma has served on the Future of Work, Skilling, and Education Task Force at the B20 through nine G20 presidencies since 2014. 
Photos
B20 member Jason Ma with G20 Leaders & fellow B20 participants (in reverse-chronological order). The B20 is the official G20 forum with the global business community. Jason has served on B20's Future of Work & Education Task Force through the G20 Presidencies of Australia, Turkey, China, Germany, Argentina, Saudi Arabia, Italy, Indonesia, and India (2023). He's also an influential voice for Digital Transformation and Trade & Investment. To learn more, see https://lnkd.in/g3iDyC7V/.