ABOUT US
– Values
– Vision and mission
– What we do for families, C-suites, and companies
– Speaking and masterclass
– Acclaimed book Young Leaders 3.0
– Testimonials, accolades, and differentiations
– B20 / G20 contribution (for the masses)
– Forbes and media contribution
– Philanthropy
– Gallery

VALUES

.
In his own family playfully called the "MAfia," ThreeEQ Founder and CEO Jason L. Ma values unconditional love, humor, and high standards on what matters. At ThreeEQ, these values are integrated with our values and principles as follows:
Integrity and authenticity

Clients first and their success is our success

Compassionate leadership and connection

Strategic and pragmatic contribution

Creative, open-minded, and deep thinking

Continuous learning and growth


.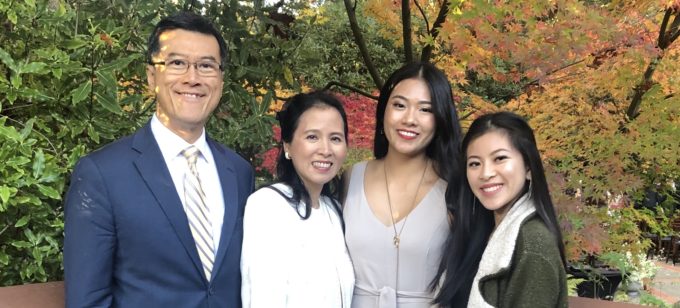 VISION & MISSION
.
1. As the Chief Mentor of Next-Gen Leaders, Jason Ma and Team ThreeEQ foresee an exciting, dynamic world in which the students in our client families will
Accomplish great outcomes in college admissions, high-end career, and life's challenges with pragmatic emotional, social, and leadership intelligence ("3EQ")

Become and rise as impactful, compassionate, next-gen leaders
2. With ThreeEQ's Board/C-level assistance, our client companies, C-suites, and family offices will progress strategically and pragmatically to their next levels.
3. As a sought-after event speaker and masterclass leader, Jason refreshingly inspires and enlightens corporate, institutional, association, and small group audiences worldwide.

WHAT WE DO FOR FAMILIES, C-SUITES, & COMPANIES
.
To learn more about ThreeEQ's Signature Services potentially for you, your loved ones, or your organization, please visit ThreeEQ.com/Services. Feel free to email us: CEO@ThreeEQ.com.
__
.
"Despite the current global setback, I believe we must remain steadfast in helping secure our Next Gen's bright future," says Jason Ma, Founder and CEO of ThreeEQ.
Jason adds, "The high-stress, anxiety-filled, hypercompetitive world through which high achievers need to navigate hasn't really changed. College students' and high school students' lives are seasonal, and quality decisions must be made in a timely fashion in each of their life phases. To achieve great outcomes, minimize painful opportunity loss, and unleash their children's full potential, families MUST wake up and get truly high-quality, third-party mentorship—the earlier, the better."
As a father and tech CEO thirteen years ago, Jason noticed that most young people—the next generation—had yet to unleash their full potential and actualize their best selves. He then decided to dedicate his second career to transforming young achievers, preparing them to gain admission to great universities, mentoring them to develop powerful mindsets and soft skills, and helping them to thrive in impactful careers.
Since then, Jason and his teams have built a distinctive track record in having successfully inspired and guided 1-on-1 hundreds of driven high schoolers, college students, working adults, and even C-suite leaders (Gen Z, Millennial, and Gen X achievers) in achieving strong outcomes.
..


.
Today, ThreeEQ, a family-owned, premier education and global business consultancy founded by Jason Ma, who serves as CEO and Chief Mentor, masterfully provides
1. Ivy League and highly competitive college admissions counseling
2. Impactful, high-end career guidance
3. Personal life and family success coaching
4. Intergenerational leadership 3.0 development
5. Global CEO/Board strategic advising and "rainmaking"
6. International speaking and masterclass leadership
.
FOR FAMILIES:
.
Known as the Chief Mentor of Next-Gen Leaders in high-level circles, Jason Ma and Team ThreeEQ serve as foremost college admissions, high-end career, leadership, and life success mentors and coaches to Private Client families. We are also deeply engaged in applied research. We masterfully inspire and guide Gen Z and Millennial high achievers to accomplish great results and also hone pragmatic emotional, social, and leadership intelligence ("3EQ") for a higher, more competitive and impactful, long-term success trajectory.
Our powerful, unique, 1-on-1 success mentoring, which includes coaching, has transformed hundreds of driven teens, young adults, and even C-suite leaders, and has helped them achieve strong outcomes. Given our guidance, our Private Client families gain peace of mind, enrich relationships, and mitigate risk of opportunity loss—all with sound family values. We also help ease succession planning.
A wealth of factors make ThreeEQ different, including a 100% success rate (defined by outcomes that clients are happy about) with coachable, committed, high-achieving students in our selected HNW client families. Our know-how, which includes Jason's own 20,000+ hours of experience and Team ThreeEQ's overall experiences in the business, is recognized in successful family circles as absolutely top-notch. We at ThreeEQ fully understand EXACTLY how Ivy League and highly competitive college admissions decisions are made. 
But our work is MORE PROFOUND than just helping kids get into college because college ISN'T their destination but is PART of their JOURNEY! Start early, reduce stress, achieve greater success, and live more happily!
.


.
,
FOR COMPANIES, C-SUITES, & FAMILY OFFICES:
.
Besides helping the Next Gen in our client families achieve great outcomes, ThreeEQ helps selected (tech) companies, C-suites, and family offices progress strategically to next levels. For our business clients, Jason Ma personally serves as a global CEO/Board advisor and business rainmaker, addressing global/U.S./Asia/China business and geopolitics, private equity, M&A, venture/strategic investment, HR/human capital, succession planning, and intergenerational leadership 3.0.
Additionally, Jason privately coaches selected CEOs and senior executives in taking their own business and personal/family successes to the next level.
Jason is also an international speaker and masterclass leader represented by leading speakers bureaus around the world.

SPEAKING & MASTERCLASS
.
As a keynote/fireside speaker and masterclass leader, Jason Ma inspires and enlightens audiences worldwide, including billionaires; corporate CEOs, executives, managers, and staff; family offices; parents; Millennials; and Gen Zers. Jason's speaking topics include leadership 3.0, global and Asia business and geopolitical roadmaps, Silicon Valley and the tech and innovation world, the future of work, education, and mentorship, intergenerational family happiness strategies, and Ivy League/elite college admissions. 
Jason has spoken at various global CEO/business conferences, tech industry events, B20 forums for the G20, enterprises, family office conferences, high-net-worth parent private events, education summits, Stanford University, UC Berkeley, INSEAD, Los Angeles Unified School District, special events co-sponsored by alumni clubs from Harvard Business School, Stanford GSB, Harvard, Wharton, and Berkeley Haas, and other influential events.
To book Jason Ma for a speaking or masterclass engagement, please contact us via email: Speaking@ThreeEQ.com. You may want to take a look at his professional speaking page first, ThreeEQ.com/Speaking.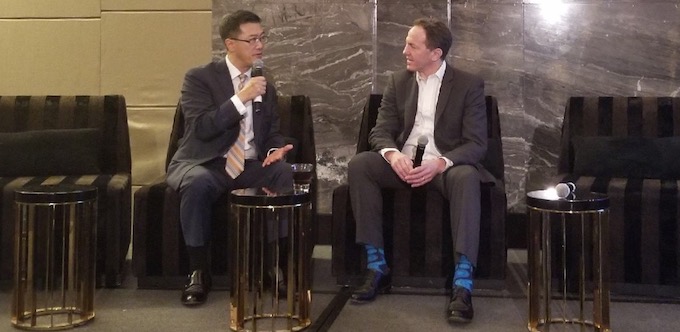 ACCLAIMED BOOK "YOUNG LEADERS 3.0" 
.
ThreeEQ CEO and Chief Mentor Jason Ma is the acclaimed author of the groundbreaking book Young Leaders 3.0: Stories, Insights, and Tips for Next-Generation Achievers. Over 1/2 of the 23 featured 17-to-24-year-old high achievers and chapter contributors were Jason's students, who hail from the 8 Ivy League universities (Brown, Columbia, Cornell, Dartmouth, Harvard, Penn, Princeton, and Yale), Babson, Bowdoin, Colgate, Georgetown, Georgia Tech, MIT, Northwestern, Oxford, Stanford, UC Berkeley, UCLA, University of Chicago, and USC. Yet, these young leaders' accomplishments transcend standardized test scores, GPAs, and résumés to reveal a more human and multifaceted view of achievement and growth. These stories provide an inside look into their personal successes and failures along with proven strategies your children can apply in their own lives to get ahead.
Please visit YoungLeaders3.com to learn more, pick up the book from Amazon, or get paperback copies in bulk with a special discount directly from us at ThreeEQ. Please feel free to email us: Book@ThreeEQ.com.
.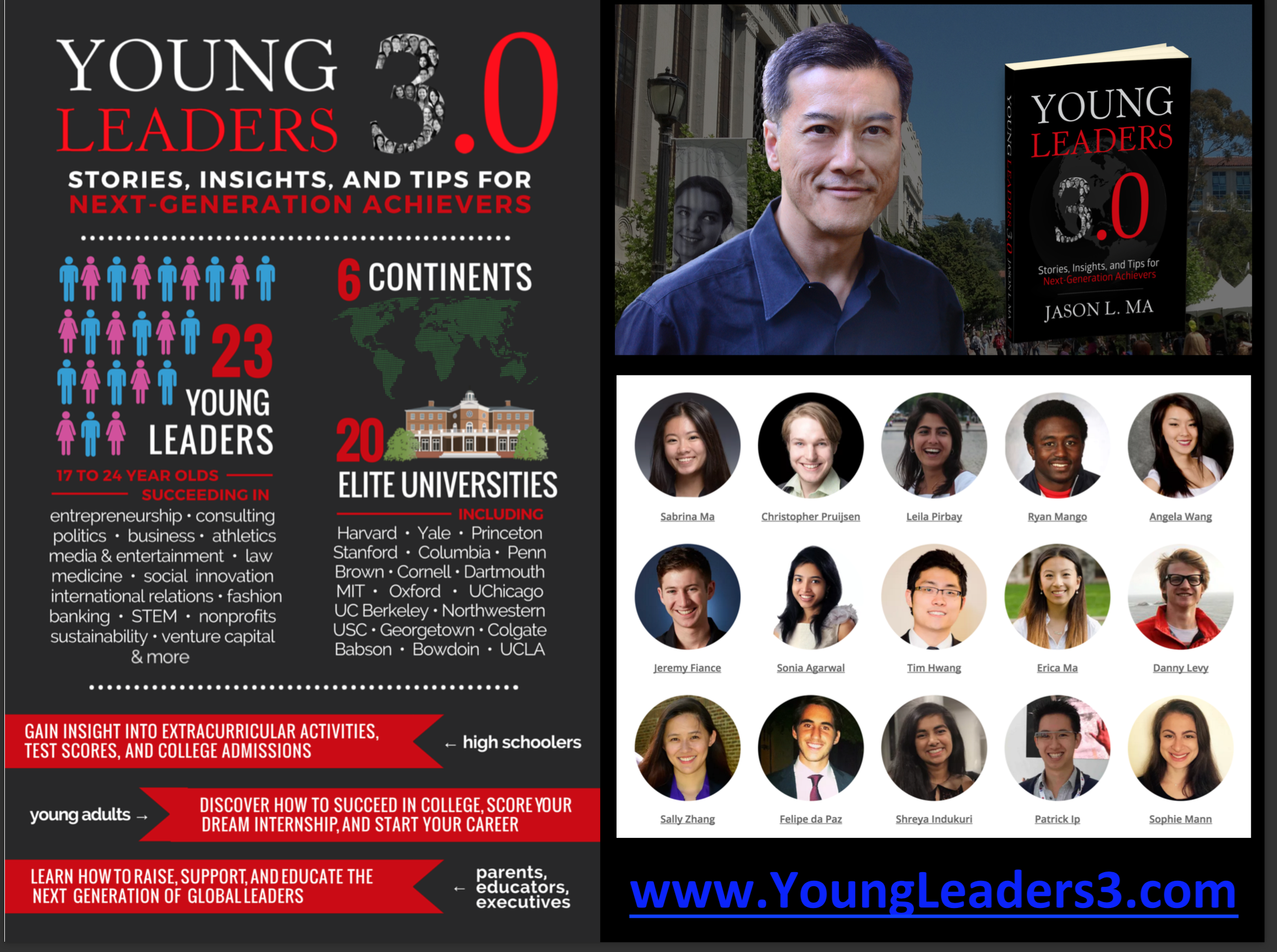 TESTIMONIALS, ACCOLADES, & DIFFERENTIATIONS
.
Please enjoy

B20 / G20 CONTRIBUTION
.
Contributing to the B20/G20 is a core part of how we help the masses worldwide. Jason Ma is one of the few hundred appointed members of the B20 in the G20, serving on the Future of Work and Education Taskforce since 2014. The B20 is the official voice of the private sector to the G20 heads of state and governments, representing the global business community across all G20 member states and all economic sectors. The G20 represents over 80% of the global nominal GDP of nearly US$90 trillion (as of 2019) and 2/3 of the worldwide population of 7.8 billion people.
You can learn more about the B20 in the G20 at B20 Saudi Arabia. Please feel free to email us at B20@ThreeEQ.com with any pragmatic suggestions or ideas for the B20/G20.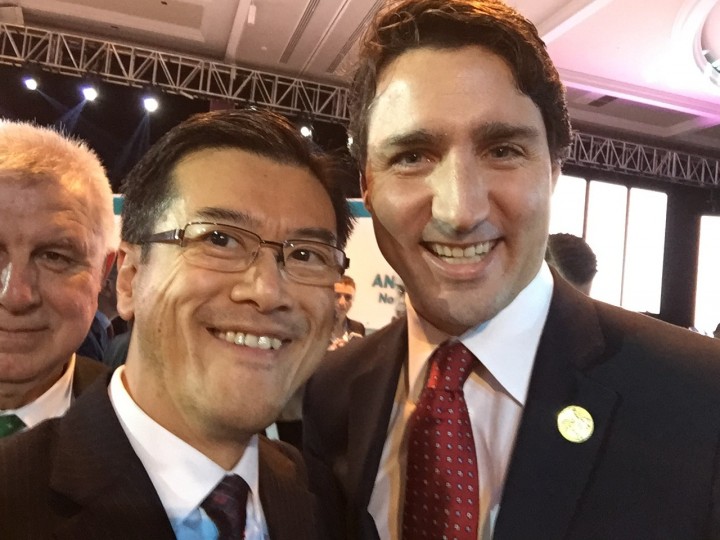 FORBES & MEDIA CONTRIBUTION
.
As a thought leader, ThreeEQ Founder and CEO Jason Ma contributes to the press and to business and education leadership communities worldwide. Jason is the former Forbes contributor on Mentoring Young Leaders for elite college admissions, leadership, higher education, and entrepreneurship success (over 1.4 million views and counting). He was a delegate to the Forbes Global CEO Conference for 8 years before Forbes Media was acquired. He was named "Preeminent Mentor For Next-Gen Leaders" by Black Tie Magazine, among other industry accolades and appearances in various other media outlets.
Please visit ThreeEQ.com/Media to learn more. To invite Jason for an interview or to contribute, please contact us via email: Media@ThreeEQ.com.


PHILANTHROPY
.
ThreeEQ believes in giving. As a longstanding, appointed B20 member, Jason Ma and Team ThreeEQ are devoted to helping the masses of people and businesses in the G20 economies and beyond.
In addition, ThreeEQ Foundation works through the Silicon Valley Community Foundation to give to causes that assist the disadvantaged. We donate pro bono services to select charities as well.

GALLERY (G20 HEADS OF STATE, FORBES GLOBAL CEOs, etc.)
.
Please visit ThreeEQ.com/Photos.

ThreeEQ is a member of the National Association for College Admission Counseling (NACAC).