VISION
We envision a world in which our Gen Z and Millennial Private Client students not only achieve great outcomes in key life-stage goals but also cultivate powerful mindsets, soft skills, and connections with lifelong benefits. Our alumni will shine as impactful C-suite/senior executives and leaders in business, technology, and government.
We also envision that our Enterprise Clients will add to their ROI and growth in revenue, profit, and market value (depending on market conditions), enhance happiness and productivity, and rewarding exits.
.

VALUES 
At home, ThreeEQ founder Jason L. Ma 馬良傑 values unconditional love, humor, and high standards on what matters. At work, Mr. Ma and his team value
Integrity and authenticity
Compassionate leadership and connection
Strategic and pragmatic contribution
Creative, open-minded, and deep thinking
Continuous growth, learning, and improvement
.
MISSION & WHO WE ARE
Led by our founder and CEO Jason Ma, known as Chief Mentor of Next-Gen Leaders in high-level circles, we at ThreeEQ inspire and guide select Gen Z, Millennial, and Gen X achievers to succeed at next levels with sustainable, sound family values.
Mr. Ma's own family values include unconditional love, humor, and high standards on what matters. Our mentees cherish that we apply these principles with them as well. Through the process, we help our mentees make the right decisions and understand why. Implicitly, we also help families and businesses mitigate risks in human capital and major opportunity costs.
Our Private Client families and individuals have benefited tremendously from our foremost 1-on-1 mentorship methodology for success in (hypercompetitive) elite college admissions, leadership, career, business, and personal fulfillment. In their respective life stages, they have enjoyed exceptional outcomes:
High Schoolers

: Acceptance into elite colleges & universities

College Students

: Meaningful college life, internships, & jobs

Working Adults

: Accelerated career & business growth

UHNW Families

: Soft side of succession planning
Along the way, we help our mentees
Strengthen their pragmatic emotional, social, and leadership intelligence ("3EQ"),

Hone their visionary stories and characters, state/emotion management, strategies and execution, and soft skills ("4S"), which is core in our super effective mentorship framework, and all the while,

Gain a sustainable competitive advantage with long-term benefits in their ever-changing, complex worlds.
Given our guidance (and our secret sauce), parents and individuals gain peace of mind and family relationships are enriched. 
Besides mentoring high achievers, Mr. Ma is a Keynote Speaker and Masterclass Leader. As Board/CEO Advisor, Global Business/Private Equity Rainmaker, and Executive Coach, he also advises select Tech Companies, Family Offices, and Enterprises for next-level business success.
Mr. Ma is Silicon Valley's leading Member of the Future of Work and Education Task Force at the B20, the private sector's voice in the G20 community. He is the acclaimed author of Young Leaders 3.0 and former Forbes Contributor on elite college admissions, leadership, and entrepreneurship (1.4M+ views). Black Tie Magazine named Mr. Ma Preeminent Mentor for Next-Gen Leaders.
OUR SIGNATURE SERVICES
Please visit ThreeEQ.com/Services. Feel free to email us.

SPEAKING & MASTERCLASS
Please visit ThreeEQ.com/Speaking. Feel free to email us.
CLIENT TESTIMONIALS
Please visit ThreeEQ.com/Testimonials.
INDUSTRY ACCOLADES & MEDIA CONTRIBUTION
Please visit ThreeEQ.com/Media. Feel free to email us.
ACCLAIMED BOOK "YOUNG LEADERS 3.0" & ENDORSEMENTS
Please visit YoungLeaders3.com.
.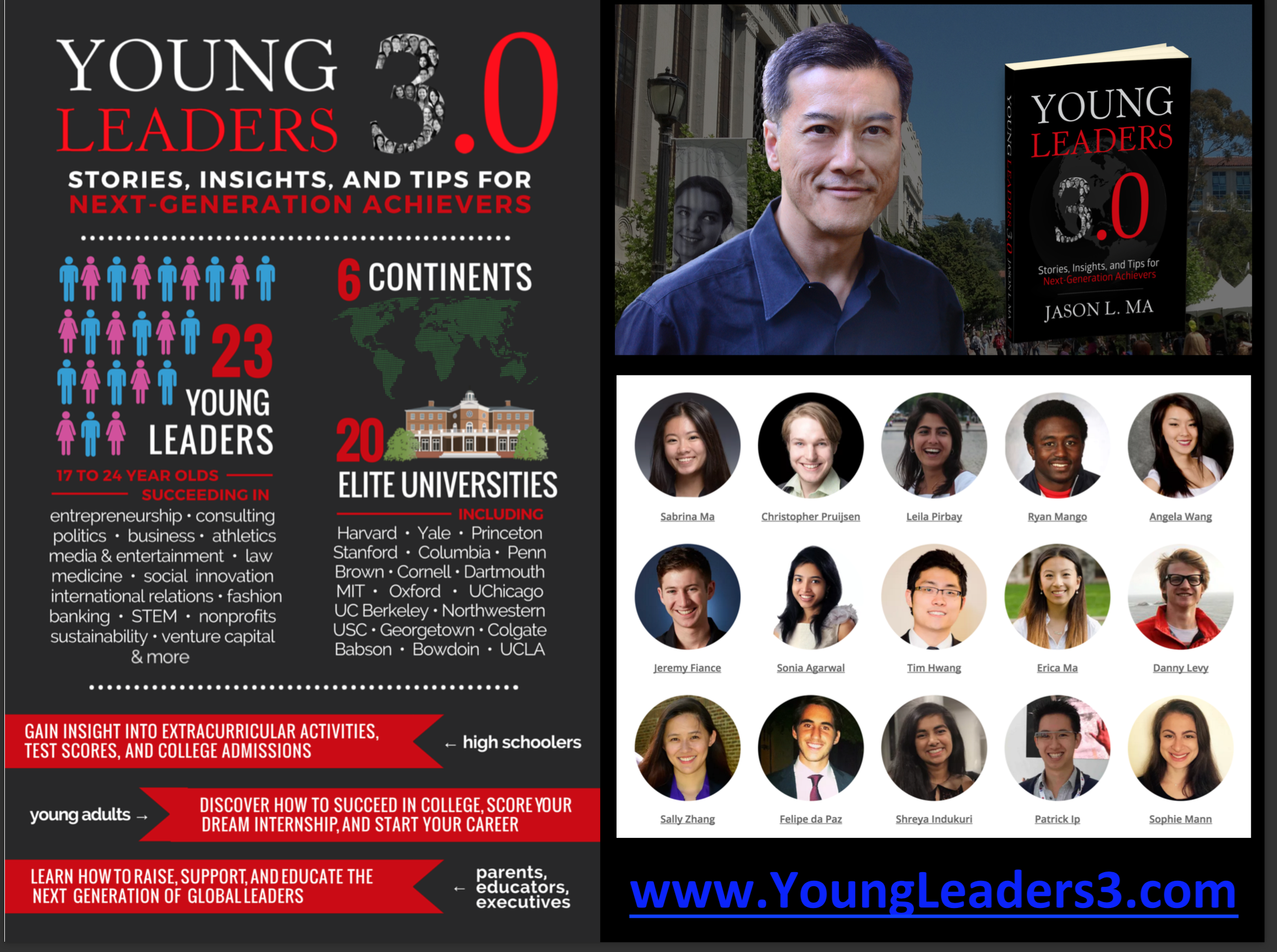 PHILANTHROPY
ThreeEQ believes in giving back. The ThreeEQ Foundation, a small donor-advised fund, works with the Silicon Valley Community Foundation to give to causes that assist the disadvantaged. We donate pro bono services to select non-profit and charity causes as well.
GALLERY (B20/G20, FORBES, etc.)
Please visit ThreeEQ.com/Photos.
---
ThreeEQ is a member of the National Association for College Admission Counseling (NACAC). ThreeEQ CEO and Chief Mentor Jason Ma also contributes as a sustaining member for the Western Association for College Admission Counseling (WACAC).