"Preeminent Mentor For Next-Gen Leaders"
on College Admissions, Leadership, Career, & Life Success
— Black Tie International Magazine
.
"Jason Ma Is One Of The 'Industry Men 2020'."
Leadership 3.0 Intelligence: Transforming Next-Gen Leaders
— Clientele Luxury Global Magazine
 

---
.
Helping Shape Next-Generation Leaders
& the G20 Business & Education World
.
ThreeEQ is a premier college admissions, leadership, career, global business, and personal success advisory firm to select high net worth families, family offices and enterprises, tech companies, and event planners around the world. ThreeEQ masterfully helps clients prepare well and achieve great outcomes in what are important to them—with pragmatic emotional, social, and leadership intelligence (3EQ).
ThreeEQ Founder, CEO and Chief Mentor Jason L. Ma is a leading member of the B20 at the G20, serving on the Future of Work and Education Taskforce, while observing Digital Transformation and Trade & Investment. As the private sector's voice of the G20 community, the B20 recommends policies to the G20 leaders and fosters dialogue between the public and private sectors, representing the global business community across all G20 member states and all economic sectors. Through the G20 and B20 presided by Australia, Turkey, China, Germany, Argentina, and Saudi Arabia in 2020, Mr. Ma is one of only a few hundred private sector leaders worldwide perennially handpicked to engage and contribute as B20 members.
.
1. Elite College Admissions, Leadership, Career, and Life Success Mentoring for Gen Z and Millennial Leaders in Select Families
2. Board/CEO Strategic Advising | Global Rainmaking | Executive Coaching at Select Tech Companies and Family Offices / Enterprises
3. Speaking and Masterclasses at Corporates, Universities, Associations, and Summits
---
Acclaimed Book, Young Leaders 3.0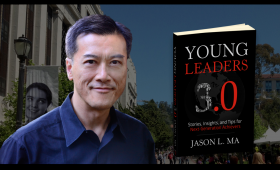 Forbes Articles, Events, News, Videos, & Gallery
Testimonials & Success Stories:
100% Success Rate with Coachable, Committed High Achievers
.
Success Stories
Mr. Ma inspired a room full of overachieving Stanford students and instructors with a relatable and actionable presentation. His talk included colorful personal anecdotes and a good sense of humor. We were very grateful for his contribution.
Rebeca Hwang, Lecturer, Stanford University, & Managing Partner, Rivet Ventures
My son was feeling great when he finished the call with you last evening. You have a gift in the way you work with these kids. I get it.
Don Levy, former SVP of Marketing & Communications, Sony Pictures
Mr. Ma is extremely knowledgeable about the college admissions process and offers valuable insight and wisdom. He was able to identify my unique strengths and talents early on and continues to provide me with valuable advice for me as a college student. He is a trusted mentor and coach and know that I will seek his professional advice for my career path.
Carolyn Yang, Princeton University student
Jason Ma and his book Young Leaders 3.0 serve to get the synapses firing between young professionals/entrepreneurs and seasoned leaders. and act as a catalyst for a new generation of leadership.
Jonathan Rosenberg, former SVP of Products, Google & author of "How Google Works"
Your discussion regarding impact investments were eye-opening as well as intriguing. Your participation brought along a wealth of knowledge and depth, setting a new standard for all our conferences. I look forward to our future events.
Denny Chared, Founder & Managing Director, DC Finance
It was truly a pleasure to host Jason Ma as an honorary speaker, where he addressed top family offices and institutional investors with excellent insights on empowering the next generation for a sustainable future. Jason is a highly engaging speaker and a fantastic collaborator.
Maya Filadska, Senior Executive Producer, APAC Investments Summit
Our entire team of administrators greatly appreciated your motivating and thought-provoking presentation. As we work to ensure that every student graduates college and career ready, your advice on how to engage students is valued.
Christopher Downing, Superintendent, Local District South, Los Angeles Unified School District
On behalf of Business Rockstars, we wanted to personally thank you for your great guest appearance on the show. Your segment was both insightful and entertaining!

Brittany Lehman, Producer, Business Rockstars
Jason Ma's book Young Leaders 3.0 is a tour de force. This book is not only extremely helpful in guiding young people but also advantageous for parents and all adults. A classic in the making.
Narayana Murthy, Founder, Infosys & Listed as one of "The 12 Greatest Entrepreneurs of Our Time" by Fortune Magazine
Upcoming Speeches
The following are some of sought-after speaker Jason Ma's upcoming and recent speaking engagements. To book Ma for a speaking engagement, please go to his professional speakership page.
.
RECENTLY:
Masterclass Leader
Preparing Your Teens & Young Adults For Success With Joy & Well-Being
[Co-Sponsored by Berkeley Haas Alumni Network, TiE Silicon Valley & TiE Angels, & Strawberry Creek Ventures (an Alumni Ventures Group Fund)] DLA Piper Silicon Valley, Palo Alto, 17 Nov 2019
Featured Speaker
Preparing Your Children For Middle/High School, College, Career, & Personal Success
[Sponsored by Haas Alumni Network & Cal Alumni Club of New York] Pepper Hamilton LLP, New York, 6 Dec 2018
Moderator: The Future of Work & Education
The Florida Family Office & High Net Worth Annual Conference 2018
W South Beach, Miami, Florida, 4 Dec 2018
1) Panelist: Shaping the Digital Economy—Building an Ecosystem for Innovation and Entrepreneurship
2) Moderator: Social and Youth Entrepreneurship—Impact Investment
World Chinese Economic Summit 2018
Kuala Lumpur, Malaysia, 9-10 Nov 2018
B20 Employment & Education Task Force Leading Member Participant
The B20 Summit (in preparation for the G20 Leaders Summit 2018)
Buenos Aires, Argentina, 4-5 Oct 2018
Speaker: Gen Z—Tomorrow's Digital Workers
2018 Future of Business Collaboration Webinar: Communication for the Intelligent Enterprise
Online, 30 August 2018
Moderator: Tariffs and Trade Wars—The Effect on Realtors
San Francisco Association of Realtors (SFAR) Seminar on Tariffs and International Trade
San Francisco Italian Athletic Club, California, 16 August 2018
Keynote Speaker: Next-Generation Human Capital Leadership
Deep-Dive Workshop Leader: Leadership 3.0
NASSCOM HR Summit 2018
ITC Grand Chola, Chennai, India, 26 Jul 2018
Jason Ma 馬良傑 is a renowned international speaker on preparing for elite US university admissions, forward-looking education and global business leadership.

OUR FORBES COLUMN & ARTICLES
Jason Ma is acclaimed author of Young Leaders 3.0: Stories, Insights, and Tips for Next-Generation Achievers and former Forbes contributor on Mentoring Young Leaders for elite college admissions, leadership, higher ed, and entrepreneurship success with over 1 million views. Mr. Ma's Forbes articles include:
College Apps: Stanford, Anyone?
Why to Start Preparing for College in Sixth Grade

Events & News
3 January 2020 — ThreeEQ
The 5-Step Strategy Our Private Client Families Use to Help Driven Teens & Young Adults Succeed With Well-Being
JOIN US for a free video masterclass in which ThreeEQ Founder and Chief Mentor Jason Ma will pull back the curtain and reveal "The 5-Step Strategy Our Private Client Families Use to Help Driven Teens & Young Adults Succeed With Well-Being (without the usual stress, anxiety, or sleep deprivation)!" This online masterclass is designed for coachable, committed, ethical, and affluent parents and their high-achieving high school and college students. It isn't designed for anyone else. If this feels aligned with your family, please click the following link to register with your authentic email address to watch the presentation (during 9am – 10pm in your time zone): https://joinnow.live/s/0BJq0g
13 December 2019 — Black Tie Magazine
Black Tie International Magazine Names Jason Ma Preeminent Mentor For Next-Gen Leaders
Black Tie Magazine publisher Gerard McKeon writes: "As parents and grandparents, we live in an age in which our world and economy are changing dramatically with new industries and innovation surging forward. The older we get, the more we realize how much we need to groom the next generation and to keep learning. This is why we are especially excited about Jason Ma and what he brings to both families and businesses…" We are honored. Please enjoy the coverage via the link above.
6 December 2019 — Clientele Luxury Global Magazine
Clientele Luxury Global Magazine Features ThreeEQ's Jason Ma as One of the Industry Men of 2020
ThreeEQ CEO and Chief Mentor Jason Ma is honored to be profiled for his foremost expertise in "Leadership 3.0 Intelligence: Transforming Next-Gen Leaders", as one of the eight Industry Men of 2020 in an all new release of Clientele Luxury Global Magazine. This high-end magazine showcases ultra luxury homes and exotic travel content.