Preparing Next Gens for Greatness
and Enhancing Family Legacies
3EQ | 3 EQ | ThreeEQ | HNWI | High Net Worth | Parents | College Consulting | Executive Coaching | Speaking
Exciting News on Our (Former) Students/Mentees Rising as Next-Gen Leaders, Speaking Engagements, B20/G20 Involvement, etc.
(Updated: September 15, 2023)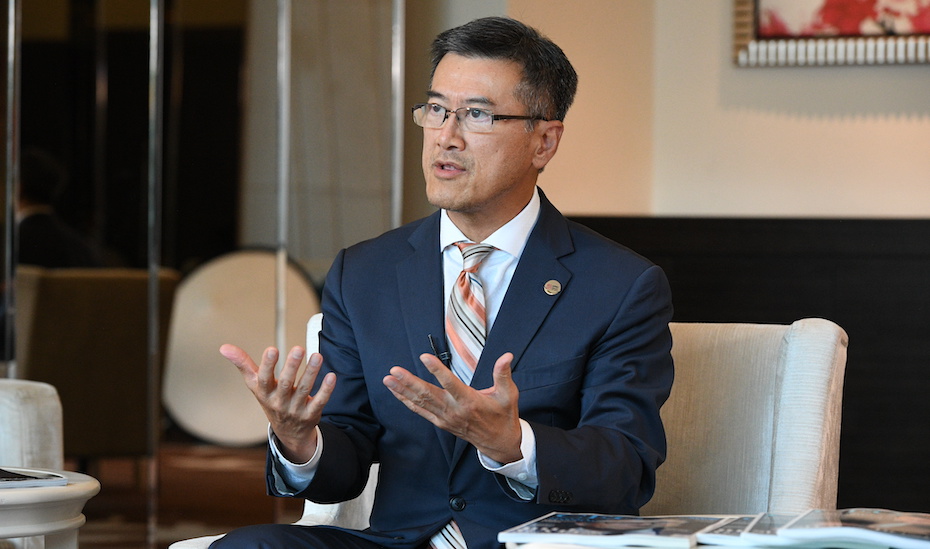 Award-winning Chief Mentor of Next-Gen Leaders and CEO of ThreeEQ, Jason Ma, being interviewed for The CEO Magazine
TESTIMONIALS & SUCCESS STORIES
Exceptional Outcomes with Coachable, Committed Private Clients
The depth and breadth of ThreeEQ's expertise is unparalleled. Our hallmark is the consistently extraordinary outcomes and profound satisfaction of our Private Clients. We extend an exclusive invitation to you to explore our testimonials and success stories, reflecting the transformative impact and legacy of our services.
"Chief Mentor of
Next-Gen Leaders"

.
—Family Office Association
—Fashion 4 Development
(League of Gentlemen)
—Agreus Group
—Washington Elite
—The Capital Club, ..Zandbergen Report,
.& Other Podcasts


"Chief Mentor of
Next-Gen Leaders"


.
—The CEO Magazine
—Impact Wealth Magazine
—Family Office Magazine
—361Firm Newport Conf
—Family Office Investment
Conf in Dubai & Riyadh
—Elite Global Leaders Conf
—NAWRB Women Leaders
—Silicon Valley Insider


.

"Preeminent Mentor
of Next-Gen Leaders"


.
—Black Tie Magazine
—Clientele Luxury Magazine

.

WHAT WE DO FOR
FAMILIES & BUSINESSES
COLLEGE STUDENTS & YOUNG ADULTS
|  PARENTS  |  CEOs & SENIOR EXECS
Preeminent Ivy League/Elite College Consultant and Advanced Leadership, Business, & Executive Coach
At ThreeEQ, our unwavering mission is to "Prepare Next Gens for Greatness and Enhance UHNW Family Legacies." Under the guidance of trusted, third-party, award-winning Chief Mentor Jason Ma, we offer bespoke Ivy League/Elite College Consulting and Advanced Leadership, Business, and Executive Coaching for Gen Z students to Gen X CEOs.
We empower these achievers to unlock their full potential and achieve great outcomes with well-being. Our holistic, personalized 1-on-1 coaching promotes transformative growth, mitigates stress and anxiety, and minimizes long-term opportunity costs. Our proprietary, powerful "4S and 3EQ" 1-on-1 mentorship framework gives our students (mentees) a formidable edge, honing their visionary story (including character), emotional and mental states, inter-connected strategies, pivotal soft skills, and execution ("4S"). Along the way, we enhance their pragmatic emotional, social, and leadership intelligence ("3EQ").
As a family business, we cherish our Private Clients, considering them an integral part of our extended family with unparalleled care and attention. Beyond great results, we help solidify legacy and succession plans for UHNW families. Start early and, with the strategic, compassionate, meticulous 1-on-1 guidance from Chief Mentor Jason Ma and Team ThreeEQ, rest assured that your loved ones or y0u are on a higher arc towards greatness and will achieve greater outcomes, all while enhancing relationships, joy, and peace of mind within your family.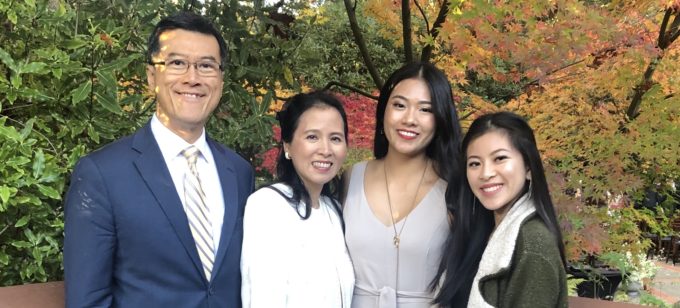 The Ma family, playfully called the "MAfia," includes two happy and compassionate Gen Z young adults. Sabrina is a top-performing senior software engineer at Google. Lydia graduated summa cum laude from Penn/Wharton and became a top performer and "culture add" at Salesforce Slack. Both have aspirations to become impactful tech leaders.

Strategic Advisor & Rainmaker to Global CEOs, Boards, & Family Offices
ThreeEQ CEO Jason Ma stands out as both a preeminent, trusted third-party mentor/coach and a well-connected, strategic advisor and rainmaker to Global CEOs, Boards, and Family Offices. Armed with keen business acumen and a powerful global network of elite top-level contacts, Jason aids decision makers in comprehending and navigating today's business complexities and securing significant deals and partnerships. His strategic advisory and rainmaking expertise covers sectors including digital technologies, education, finance, e-commerce, media, distribution, VTOL aeronautics, oil refinery, and hospitality.
Outside ThreeEQ, Jason is the Chief Business Officer and an investor at a patented transformative tech venture, operating in semi-stealth for strategic advantage. His highly select investments highlight his faith in innovative tech, complemented by his philanthropic initiatives. To tap into Jason's expertise, please contact him directly.
Co-MC Jason Ma speaking at the Sustainable Goals Banquet during UNGA 2022, in the presence of Heads of UN Delegations, First Ladies, and other notable attendees.

Sought-After Speaker, Masterclass Leader, & Show Guest
As a sought-after Speaker and Thought Leader, Jason Ma inspires and motivates audiences from Gen Z to parents to CEOs to billionaires around the world with his transformative message. From speaking engagements to group coaching to show appearances, he offers actionable insights on a variety of topics. Please visit Jason Ma's Professional Speaking page for more information and to book him for your next event.
Fashion 4 Development Award During UNGA 2022
Fashion 4 Development (F4D) Founder Evie Evangelou inducted ThreeEQ CEO and Chief Mentor Jason Ma into the League of Gentlemen at the Sustainable Goals Banquet in the presence of Heads of UN Delegations, First Ladies, Ambassadors, and private sector VIPs, commencing UNGA 2022. The spectacular event was MCed by Evie and co-MCed by Jason.
Event Organizers, Show Hosts/Producers, and their Representatives that have invited Jason as an inspirational (Keynote/Fireside/Panel) Speaker, Moderator, Master of Ceremony, Masterclass Leader, or Show Guest include:

– Speakers Bureaus
– Corporates


– B20/G20 Forums


– Family Office Association


– Family Office Magazine Conference


– Family Office Summit in Dubai & Riyadh
– DC Finance Family Office & HNW Conf
– Elite Global Leaders Conference
– APAC Investments Summit
– 361Firm
– Tiger 21
– Business Rockstars
– CEO Club of Marin
– Silicon Valley Insider
– Audvisor
– Money Talk Viewpoint
– The Measure Success, Capital Club,


…

Zandbergen Report, Take The Lead,


…

Before It Happened, & other Podcasts

– CNBC's Managing Asia
– Channel NewsAsia C-Suite
– Horasis Global China & India Business


…

Meetings
– World Chinese Economic Summit
– Silicon Dragon Ventures
– Singapore Career & Education Conf
– Asian American Business Roundtable
– Fashion 4 Development during UNGA
– NAWRB Women Leaders
– Alumni Clubs from
   . Harvard Business School (HBS)
   . Harvard
   . Wharton
   . Stanford GSB
   . Berkeley Haas
– Stanford University
– UC Berkeley


– LAUSD Leadership

 

 

THOUGHT LEADERSHIP:
B20/G20, Talks, Articles, Book
THE B20 / G20
Leading Member of the B20, the Official G20 Dialogue Forum with the Global Business Community

ThreeEQ CEO Jason Ma, a globally renowned business and education leader, is an appointed member of the B20 within the G20. The B20 is the official G20 dialogue forum representing the global business community (private sector). 
As a leading B20 member through the nine G20 Presidencies of Australia, Turkey, China, Germany, Argentina, Saudi Arabia, Italy, Indonesia, and India (2023), Jason contributes to the B20's annual private sector policy recommendations, which influence the strategic direction set by the G20 Leaders (Presidents and Prime Ministers) and their governments. The B20 helps shape global economic growth and development to benefit billions of people and countless businesses worldwide.
Jason is one of a select few Americans appointed annually to the B20 since 2014, bringing a unique perspective from global Silicon Valley. He has served on the B20's Future of Work, Skilling, and Education Taskforce. Jason is also an influential voice on Digital Transformation, including AI, Digital Media, and E-Commerce, as well as Trade & Investment.

Talks and Interviews at Top-Tier Events and Media/Shows That Inspire and Empower Audiences



.




Harvard Business School Association Keynote, Q&A




.


Harvard Business School (HBS), Harvard, Wharton, Stanford GSB, & Berkeley Haas alumni clubs co-sponsor a special event for (high-achieving) alumni parents titled "Preparing Your Children for Middle/High School, College, Early Career, and Personal Success" with ThreeEQ CEO & Chief Mentor Jason Ma as the sole speaker.


blank

The CEO Magazine representative converses with ThreeEQ CEO & Chief Mentor Jason Ma about his family business ThreeEQ, his high-impact patented tech company (in semi-stealth), and his faith with wisdom as a success factor.



.




Family Office Magazine Conference Panel




.


At the Family Office Magazine Conference 2022, ThreeEQ CEO & Chief Mentor Jason Ma moderates "The Art of Mentoring the Next Gen and Succession Planning" with CEO Scott Peppet & CIO Wendy Craft at two billionaire families' single family offices and Silicon Valley tech veteran Vish Mishra as panelists.

blank




.




Family Office Association Fireside Chat #1




.


Family Office Association CEO Angelo Robles' interview with ThreeEQ CEO Jason Ma: "Chief Mentor of Next-Gen Leaders: Foremost Coach for College Admissions, High-End Career, Leadership, & Life Success." Listen on Angelo's Effective Family Office Podcast on Apple Podcasts

,

Sticher

,

Spotify, or iHeartRadio

.
The Capital Club Show Interview
.
The Capital Club host Brian Adams interviews ThreeEQ's Jason Ma about "Generational Wealth: Money, Mentorship, and Meaningful Connections." Listen on Apple Podcasts, Spotify, or Google Podcasts.

blank

Leading B20 member Jason Ma is featured by B20 India in this short video. In it, Mr. Ma emphasizes the importance of empowering the masses partly by imparting soft skills and promoting lifelong learning. The B20 is the official G20 forum for the global business community. Indian Prime Minister Modi chairs the G20 presidency in 2023. Mr. Ma has served on the Future of Work, Skilling, Mobility, and Education Task Force at the B20 through nine G20 presidencies since 2014. 
VIEW ALL RECORDED TALKS & MEDIA INTERVIEWS

Forbes, Impact Wealth, Family Office Magazine,
and Other Articles by Author Jason Ma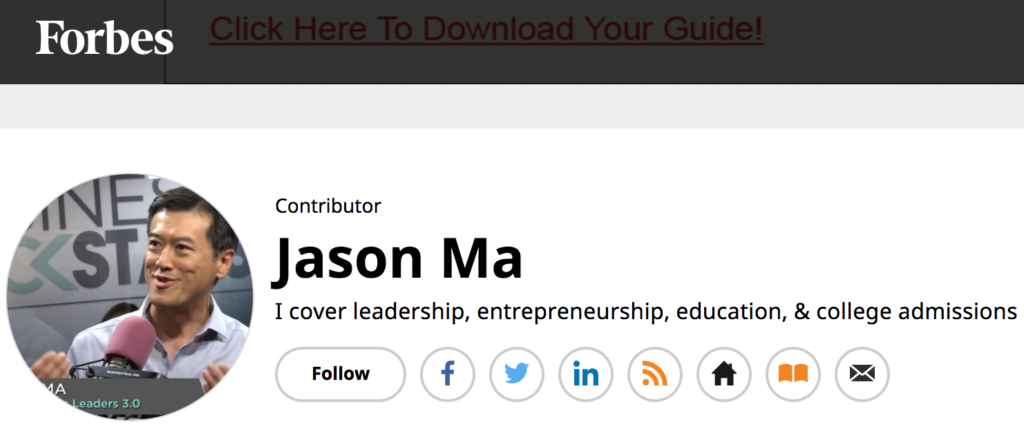 Why to Start Preparing for College in Sixth Grade
Forbes

Preparing Your Children for Elite College Admissions, Life, & Career Success with Well-Being
Impact Wealth Magazine Winter 2023 Issue pages 76-79
Empowering Next-Gen Leaders: Navigating the Journey from College Prep and Admissions to Lifelong Success and Well-Being
LinkedIn
College Apps: Stanford, Anyone?
Forbes
When to Say No to Harvard
Forbes
Fatherhood: The Linchpin for the Prosperity of Our Next Generation and Family Legacies
LinkedIn
The Mentor—An Interview with Jason Ma on Intergenerational Leadership & Gen Z
Agreus Group (Family Office recruiter)
The Art of Mentoring the Next Gen and Succession Planning
Impact Wealth Magazine (also on Family Office Magazine)
Next-Gen Leadership In Turbulent Times
Impact Wealth Magazine


Highly Acclaimed Book by Author Jason Ma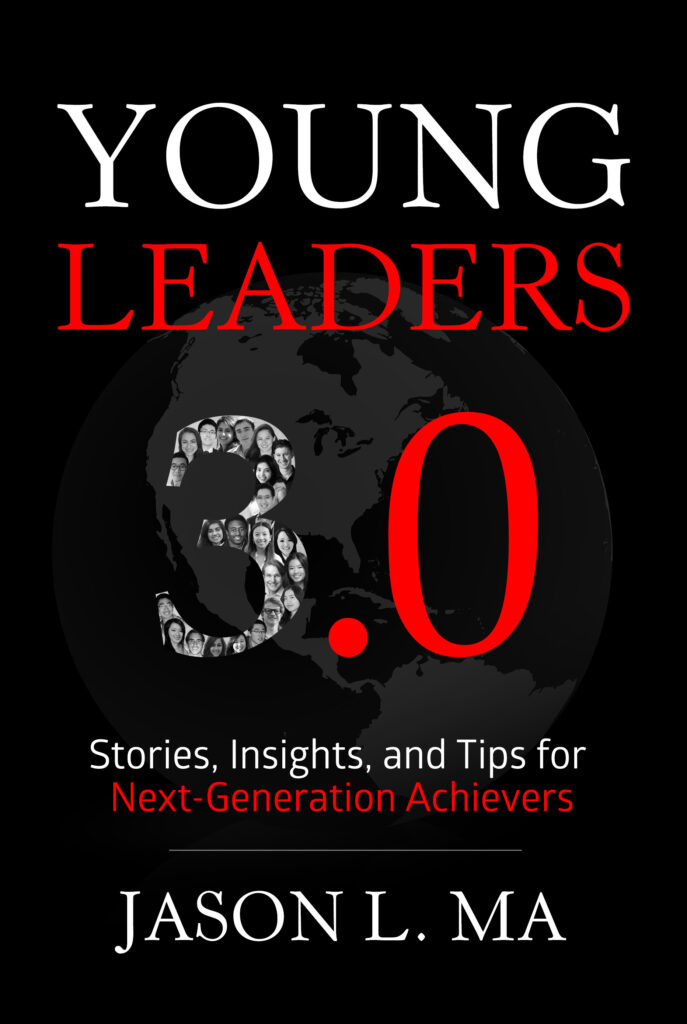 Author Jason Ma's groundbreaking book, Young Leaders 3.0: Stories, Insights, and Tips for Next-Generation Achievers, has received high acclaim. The book features 23 exemplary 17-to-24-year-old (Gen Z and Millennial) high achievers, over half of whom were Jason's students/mentees from prestigious universities including the Ivy League universities (Brown, Columbia, Cornell, Dartmouth, Harvard, Penn, Princeton, and Yale), Babson, Bowdoin, Colgate, Georgetown, Georgia Tech, MIT, Northwestern, Oxford, Stanford, UC Berkeley, UCLA, UChicago, and USC.
Young Leaders 3.0 takes a human and multifaceted approach to these young leaders' achievements and growth, going beyond traditional markers of success like GPAs, standardized test scores, and resumes. It provides an inside look at personal successes and failures, along with valuable lessons learned and proven strategies for young people to get ahead in life with well-being.
Success Stories

Mr. Ma inspired a room full of overachieving Stanford students and instructors with a relatable and actionable presentation. His talk included colorful personal anecdotes and a good sense of humor. We were very grateful for his contribution.
Rebeca Hwang, Lecturer, Stanford University, & Managing Partner, Rivet Ventures

Jason Ma and his book Young Leaders 3.0 serve to get the synapses firing between young professionals/entrepreneurs and seasoned leaders. and act as a catalyst for a new generation of leadership.
Jonathan Rosenberg, former SVP of Products, Google & author of "How Google Works"
.
My son was feeling great when he finished the call with you last evening. You have a gift in the way you work with these kids. I get it.
Don Levy, former SVP of Marketing & Communications, Sony Pictures

Jason Ma's book Young Leaders 3.0 is a tour de force. This book is not only extremely helpful in guiding young people but also advantageous for parents and all adults. A classic in the making.
Narayana Murthy, Founder, Infosys & Listed as one of "The 12 Greatest Entrepreneurs of Our Time" by Fortune Magazine

Your discussion regarding impact investments were eye-opening as well as intriguing. Your participation brought along a wealth of knowledge and depth, setting a new standard for all our conferences. I look forward to our future events.
Denny Chared, Founder & CEO, DC Finance
Upcoming Speeches
JASON MA'S UPCOMING & RECENT ENGAGEMENTS (PARTIAL LIST):
.
Show Guest: How to Maintain Motivation and Reach Your Full Potential
The Measure Success Podcast with Host Carl J. Cox
Virtual, 29 August 2023
Leading B20 Member Delegate
B20 Summit India, Preceding the G20 Leaders' Summit 2023
Taj Palace, New Delhi, India, 25-27 August 2023
Featured B20 Member
B20 India and Its Task Force on Future of Work, Skilling, and Mobility
Virtual, 30 July 2023
Panelist: Optimizing Impact & Next Gens
Roundtable Leader: Next Gens
361Firm Newport Conference 2023
Newport, Rhode Island, 10 July 2023
Show Guest: Preparing Next Gens for Greatness
The Zandbergen Report Podcast with Host Letitia Berbaum
Virtual, 30 June 2023
Show Guest: Generation Wealth: Money, Mentorship, and Meaningful Connections
The Capital Club Podcast with Host Brian C. Adams
Virtual, 1 February 2023
Featured Speaker: Gen Z as Employees and Inheritors
Tiger 21, Las Vegas
Virtual, 13 January 2023
Panelist: The Role of Global Chinese Diaspora – Connecting With Overseas Chinese
Global Chinese Economic & Technology Summit 2022
Virtual (instead of in person at venue Shangri-La, KL, Malaysia), 7 Dec 2022
Panelist: Family Offices Panel
Moderator: Education Panel
NAWRB Women Leaders Conference 2022
N. Tahoe, California, 17-18 Nov 2022
Featured Speaker: Tech Trends, Future of Work, The B20/G20, Insights & Tips on Advancing Your Careers and Lives
Wells Fargo's Private Event with Executives, Managers, and Staff
Virtual, 16 Nov 2022 (Booked by a Speaker Bureau)
Jason Ma 馬良傑 is a renowned international speaker on preparing for elite US university admissions, forward-looking education and global business leadership.

OUR FORBES COLUMN & ARTICLES
Besides his critically acclaimed book Young Leaders 3.0, Jason Ma's Forbes articles on Mentoring Young Leaders for Ivy League/Elite College Admissions, Higher Education, Next-Gen Leadership, and Entrepreneurship Success (1.8M+ views) include the following. His Impact Wealth Magazine and other articles are underneath this section.
How Mentors Shape Moguls, CEOs, Celebrities, and the Next Generation of Leaders
What It Takes to Get Into UC Berkeley
Events & News
15 September 2023 — ThreeEQ
It's Heartwarming to See Our (Former) Students/Mentees Rise as Next-Gen Leaders and Make a Difference
We have numerous uplifting stories to share on this front. ThreeEQ CEO and Chief Mentor Jason Ma recently caught up with several of his standout former students/mentees in the SF Bay Area/Silicon Valley. Catch some of his reflections here, here, and here. Not to be forgotten, Mr. Ma's own two Gen Z daughters, who are now working adults, were also his (former) students. You can delve into his previous related posts below. For more inspiring success stories, check out our Testimonials from former students/mentees, parents, and other VIPs.
25-27 August & 9-10 September 2023 — The B20 / G20
Jason Ma Reflects on the B20 Summit India as a Significant Precursor to the G20 Summit 2023
The G20 Summit, featuring the Presidents and Prime Ministers of the top 20 economies and some +1s, is set to take place in New Delhi on 9-10 September.  Longstanding B20 member and ThreeEQ CEO Jason Ma reflected on his experience at the spectacular B20 Summit India held in Delhi from 25-27 August. During this summit, B20 India delivered its Communique of private sector policy recommendations to the G20, which is presided by India and chaired by Prime Minister Modi in 2023. Additionally, the B20 baton was handed from India to Brazil for 2024.

29 August 2023 — The Measure Success Podcast
Jason Ma Inspires as a Guest on The Measure Success Podcast
ThreeEQ CEO and Chief Mentor Jason Ma was honored to contribute as a guest on the Measure Success Podcast hosted by Carl J. Cox. In their conversation, Ma shared insights on maintaining motivation and realizing one's full potential. The podcast features Cox interviewing top leaders, delving into effective strategies that drive success. Guests include CEOs, entrepreneurs, authors, and extraordinary achievers. Notably, the Measure Success Podcast ranks in the Top 3% of all global podcasts.