Preparing Next-Gen Leaders for Success in
College Admissions, Leadership, Career, and Life 
Successfully Coached 1-on-1 Hundreds of Gen Z and Millennial Achievers Over the Past 13 Years 
.

High Schoolers  |  Young Adults  |  Parents  |  Companies
Forbes  | Young Leaders 3.0  |  B20 / G20  |  Speaking
Testimonials  |  Gallery  |  How Is ThreeEQ Different?
As a father and tech CEO thirteen years ago, JASON MA noticed that most young people—our next generation—had yet to unleash their full potential. He then decided to dedicate his second career to transforming young achievers and preparing them to gain admission to great universities, thrive in impactful careers, and cultivate powerful mindsets and soft skills.
Since then, Jason has built a distinctive track record in having successfully inspired and guided 1-on-1 hundreds of Gen Z and Millennial achievers—with pragmatic emotional, social, and leadership intelligence ("3EQ").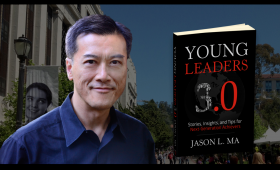 Today, ThreeEQ is proud to maintain a 100% success rate and a 100% peace-of-mind guarantee with coachable and committed high-achieving students in our selected HNW Private Client families worldwide.
While Chief Investment Officers and CFOs are, respectively, vital for family offices and companies, ThreeEQ founder/CEO Jason Ma is sought after as the Chief Mentor of Next-Gen Leaders and a trusted top advisor in high-level circles.
Jason and Team ThreeEQ specialize in:
HIGH SCHOOL STUDENTS: Foremost, elite college planning, applications (e.g. essays, etc.), and admissions counseling for gaining acceptance into top-tier, best-fit colleges and beyond (view the 24 line items in 3 strategic phases). This also includes academic planning; extracurricular and summer activity planning; test prep planning; various other application components; honing a visionary growth mindset, relevant strategies, and execution; and development of leadership and other soft skills.


.

YOUNG ADULTS IN COLLEGE & AT WORK: Impactful career, leadership, internship, academic, activity, connectivity, and personal next-level success coaching (depending on life stage). How aware are you that numerous university students and young professionals, including high achievers, are often stressed-out, anxiety-filled, or a bit lost? Wise families get our help to raise their young adults' trajectory of success, achievements, well-being, and then some.


.

PARENTS: Providing insight into the avoidable but common and costly mistakes made even by families with parents who are successful in their own career, what you can do to advantage your child(ren), and mo

re. Given our guidance, families gain peace of mind, enrich relationships, and mitigate risk of opportunity loss—all with sound family values. We also ease succession planning. Hint: Start early…
.
Learn more ABOUT how we help select HNW families, family offices, individuals, companies, as well as the G20 through the B20, the official business voice of the G20 member states. college consulting | life coaching | ultra high net worth individuals | HNWI
Success Stories
Mr. Ma inspired a room full of overachieving Stanford students and instructors with a relatable and actionable presentation. His talk included colorful personal anecdotes and a good sense of humor. We were very grateful for his contribution.
Rebeca Hwang, Lecturer, Stanford University, & Managing Partner, Rivet Ventures
My son was feeling great when he finished the call with you last evening. You have a gift in the way you work with these kids. I get it.
Don Levy, former SVP of Marketing & Communications, Sony Pictures
Mr. Ma is extremely knowledgeable about the college admissions process and offers valuable insight and wisdom. He was able to identify my unique strengths and talents early on and continues to provide me with valuable advice for me as a college student. He is a trusted mentor and coach and know that I will seek his professional advice for my career path.
Carolyn Yang, Princeton University student
Jason Ma and his book Young Leaders 3.0 serve to get the synapses firing between young professionals/entrepreneurs and seasoned leaders. and act as a catalyst for a new generation of leadership.
Jonathan Rosenberg, former SVP of Products, Google & author of "How Google Works"
Your discussion regarding impact investments were eye-opening as well as intriguing. Your participation brought along a wealth of knowledge and depth, setting a new standard for all our conferences. I look forward to our future events.
Denny Chared, Founder & Managing Director, DC Finance
Jason Ma's book Young Leaders 3.0 is a tour de force. This book is not only extremely helpful in guiding young people but also advantageous for parents and all adults. A classic in the making.
Narayana Murthy, Founder, Infosys & Listed as one of "The 12 Greatest Entrepreneurs of Our Time" by Fortune Magazine
Upcoming Speeches
Please go to Jason Ma's professional speaking page.
RECENTLY:
Masterclass Leader
Preparing Your Teens & Young Adults For Success With Joy & Well-Being
[Co-Sponsored by Berkeley Haas Alumni Network, TiE Silicon Valley & TiE Angels, & Strawberry Creek Ventures (an Alumni Ventures Group Fund)]
DLA Piper Silicon Valley, Palo Alto, 17 Nov 2019
Moderator: The Future of Work & Education
The Florida Family Office & High Net Worth Annual Conference 2018
W South Beach, Miami, Florida, 4 Dec 2018
1) Panelist: Shaping the Digital Economy—Building an Ecosystem for Innovation and Entrepreneurship
2) Moderator: Social and Youth Entrepreneurship—Impact Investment
World Chinese Economic Summit 2018
Kuala Lumpur, Malaysia, 9-10 Nov 2018
B20 Employment & Education Task Force Leading Member Participant
The B20 Summit (in preparation for the G20 Leaders Summit 2018)
Buenos Aires, Argentina, 4-5 Oct 2018
Jason Ma 馬良傑 is a renowned international speaker on preparing for elite US university admissions, forward-looking education and global business leadership.

OUR FORBES COLUMN & ARTICLES
Jason Ma is the acclaimed author of Young Leaders 3.0 and former Forbes contributor on Mentoring Young Leaders for elite college admissions, leadership, higher ed, and entrepreneurship success with over 1.4 million views and counting. Mr. Ma's Forbes articles include:
College Apps: Stanford, Anyone?
Why to Start Preparing for College in Sixth Grade
Events & News
23 March 2020 — The B20, ICC, and WHO
Need for Coordinated Action by G20 Leaders in Response to the COVID-19 Pandemic – an Unprecedented Health and Economic Crisis
As a longtime member of the B20, which is the official business voice of the G20 member states presided by Saudi Arabia in 2020, ThreeEQ CEO Jason Ma would like to share this joint open letter from the B20 Saudi Arabia, the International Chamber of Commerce (ICC), and the World Health Organization (WHO), to the G20 leaders (heads of state). Click the link above. Please feel free to email B20@ThreeEQ.com if you have any new, pragmatic ideas to help solve this massive, global health and economic crisis.
3 January 2020 — ThreeEQ
Preparing Your High-Achieving Child for Elite College Admissions, Leadership, Career, & Life Success
Join us for a free video masterclass in which ThreeEQ Chief Mentor Jason Ma pulls back the curtain and reveals how ThreeEQ Private Client families prepare their driven high schoolers, college students, and early professionals to really succeed with well-being, without the usual stress, anxiety, or sleep deprivation. This masterclass is designed for coachable and committed families.
13 December 2019 — Black Tie Magazine
Black Tie Magazine Names Jason Ma Preeminent Mentor For Next-Gen Leaders
Black Tie Magazine publisher Gerard McKeon writes: "As parents and grandparents, we live in an age in which our world and economy are changing dramatically with new industries and innovation surging forward. The older we get, the more we realize how much we need to groom the next generation and to keep learning. This is why we are especially excited about Jason Ma and what he brings to both families and businesses…" We are honored. Please enjoy the coverage via the link above.