SIGNATURE SERVICES FOR HIGH SCHOOL STUDENTS
.
We can imagine that you want to do well in school and in activities, get admitted to great colleges, enroll in the college that best fits you, land and thrive in rewarding jobs and careers in coming years, and live a happy life.
But these days, that's easier to dream than to do. A heavy academic workload, the daunting and hypercompetitive college admissions process, intense student competition, the smartphone's and social media's unwanted effects, and uncertainties about the future often heighten anxiety and stress.
The bottomline? Without truly high-quality guidance, it's so easy to get buried or overwhelmed, and make bad decisions and costly mistakes, leading to undesirable results—even if you attend a private school and certainly if you attend a less-resourced public school.
The SOLUTION? Do whatever it takes to get the best mentor to help guide you! This mentor should be a proven expert in both college counseling and life/leadership/career coaching. The right mentor will strategically and pragmatically help you navigate through the complex and stressful college process with clarity, confidence, and joy, while elevating your leadership mindset, soft skills, and visionary direction and serving you to your dreams.
Start early, stress less, achieve greater, and be happier!
Watch some of Jason Ma's student testimonials.
. ...
At ThreeEQ, we are passionate about mentoring and creating next-generation leaders. ThreeEQ CEO and Chief Mentor Jason Ma 馬良傑老師 says: "College is part of the journey but not the destination. Think not only college admissions but also through college, career, and life!" As the foremost college admissions, career, and life coach for driven teens, we convert our students' dreams into reality. Our unparalleled mentoring framework and process are effective, holistic, inspiring, data-driven, and personalized at a quality level unmatched at even top private schools. 
View some of our success stories and testimonials. We maintain a 100% success rate with coachable and committed high achievers!
We expertly prepare ambitious teens to define and achieve key academic, extracurricular, and college search goals, build authentic and attractive stories, cultivate strong next-generation leadership mindsets and soft skills for school and career, tackle the entire complex college planning, applications, and admissions process (incisive guidance on all interconnected components—see details below), and get admitted to top best-fit colleges/universities—with positive and powerful lifelong benefits.
.
Ivy League, MIT, Stanford, & UC Berkeley Class of 2021 Admissions Results
.
With a tight-knit A-team through the years, ThreeEQ Founder, CEO and Chief Mentor 
Jason Ma has guided 1-on-1 hundreds of high-achieving Gen Zers and millennials to successfully get admitted to best-fit elite colleges and universities—all based on merit. "Without integrity and authenticity, nothing else matters," says Mr. Ma. Depending on their life stage, many of Mr. Ma's students have (gone on and)
 landed rewarding internships, jobs, and/or career paths, growing and contributing as rising next-generation leaders.
On
elite college admissions results
, we are very proud to say that our exceptional track record includes having helped 100% of our coachable and committed high-achieving students/mentees get admitted to their share of the
Ivy League universities (Brown, Columbia, Cornell, Dartmouth, Harvard, Penn/Wharton, Princeton, and Yale) and ALL other elite research universities and liberal arts colleges (e.g. over 50 students admitted to Ivy League schools, Stanford, MIT, Caltech, UChicago, Duke, Georgetown, Northwestern, Johns Hopkins, WashU, Rice, Notre Dame, Vanderbilt, and USC; over 100 students admitted to UC Berkeley and UCLA; and some admitted to Oxford, Cambridge, and Imperial in the UK).
We at ThreeEQ also believe that admission is merely a stepping-stone to even GREATER success. In addition to helping you get admitted to great best-fit colleges and universities, our unusually effective, energizing, and pragmatic personalized success mentoring process integrates Mr. Ma's extensively proven and unique framework of emotional, social, and leadership intelligence ("3EQ") and genuine story, (emotional) state of mind, strategies, and (soft) skills, with a visionary direction ("4S"). Decent IQ matters, but strong, pragmatic "3EQ" is necessary for high school (super)stars and leaders to thrive through college with purpose and joy (not overstress or overanxiety) and (pre-)position proactively well for impactful and rewarding careers.
.
.
Given our guidance, you can become one of our new star students who will achieve great college admissions results, make greater impact, live joyfully, and make millions more through your upcoming career and adult life! It's been extensively proven that a most powerful SECRET TO GREAT SUCCESS for high achievers is having truly top-notch mentorship by their side.
.
How We Guide Our Students Through the Complex Elite College Planning, Applications, and Admissions Process:
Applying to top-tier US colleges and universities can be a confusing, complex, and highly competitive process. Parents and students often start late or underestimate what it takes to succeed. Reputable schools avoid cookie-cutter students who offer no more than perfect grades and test scores. The most selective schools seek standouts or great fits and (sadly but surely) reject the vast majority of high achievers with strong academic performance and/or lots of extracurricular activities.
Fortunately, our time-tested, personalized, strategic, pragmatic, and nurturing college planning, applications, and admissions process guidance, along with powerful life and career coaching, help you realize your authentic best and full potential, prepare well for and present highly compelling applications, maximize chances for admission to your dream schools, and make the right college choice. We guide and coach you—whether introverted or extroverted—to maximize your outcomes with joy and well-being, while being a trusted advisor to your parent(s) so that you all will be more aligned and enjoy more fulfilling family relationships!
Through the entire personalized process, we at ThreeEQ wholeheartedly and meticulously mentor you to:
Build your authentic and attractive personal story and qualities (This process should start early in high school, if not in middle school)
Develop a strong college search/planning, applications, and admissions strategy and game plan
Strategize, decide on, and perform well on term-to-term, year-to-year academic curriculum
Strategize, decide the whats and whens of, and how best to prepare for admissions standardized tests (e.g. SAT or ACT, SAT Subject Tests)
Strategize, decide on, and do well on extracurricular activities through school years and summers (maybe internships)
Cultivate a stronger (proactively employable) mindset, direction, competitiveness, and scalable leadership, communications, people/social, decision-making, and other soft skills
Build and manage key relationships in your world
Build a strong résumé/CV
Research colleges and visit colleges smartly
Determine a manageable list of reach, probable, and solid schools
Decide whether or not to apply Early Decision or (Restricted) Early Action
Craft TONS of authentic and cogent personal essays and other types of writings that represent the best of you. This complex core subprocess is often (far)underestimated by most high achievers!
Complete strong application forms (even most high achievers make mistakes; our hawkeyes catch them!)
Secure strong recommendation letters (you may be surprised on how this really works…)
Prepare appealing (visual or performing) arts supplements, if applicable
Apply for merit-based scholarships, if appropriate
Prepare effectively for interviews
Make certain your whole shabang looks great (to maximize your chances for admission!)
Respond to application wait lists
Decide the optimal school to enroll (matriculate) in!
And once again, high achievers, we sincerely and strongly advise for you to NOT attempt to do all of this yourself without truly high-quality third-party guidance because both you and we care very much about your achieving great results with well-being!
.
IN SUM, our client students and parents enjoy maximizing wins and success, minimizing pain and opportunity costs, and getting the certainty and peace of mind by taking advantage of ThreeEQ's foremost and compassionate mentorship. With our guidance, you will set clearer direction, achieve great results in top best-fit college admissions, live happier, (pre-)position very well for college life and rewarding career paths, cultivate stronger next-generation leadership and life skills early on, transforming powerfully upward and unleashing your full potential. Start early, stress less, achiever greater, and be happier!
.
NEXT STEP:
The question you need to ask yourself is: "Do I want to achieve great results in college admissions, unleash my full potential, be happy, and secure my bright future?"
If the answer is YES, we invite you to apply for a COMPLIMENTARY strategy session with ThreeEQ CEO and Chief Mentor Jason Ma 馬良傑老師 or a senior colleague of ours, along with your parent(s). The call will be a deep conversation exploring your past, present, and hopeful future, and if and how we can work together to make that a reality for you. Go to ThreeEQ.com/contact and follow the simple instructions there.
---
.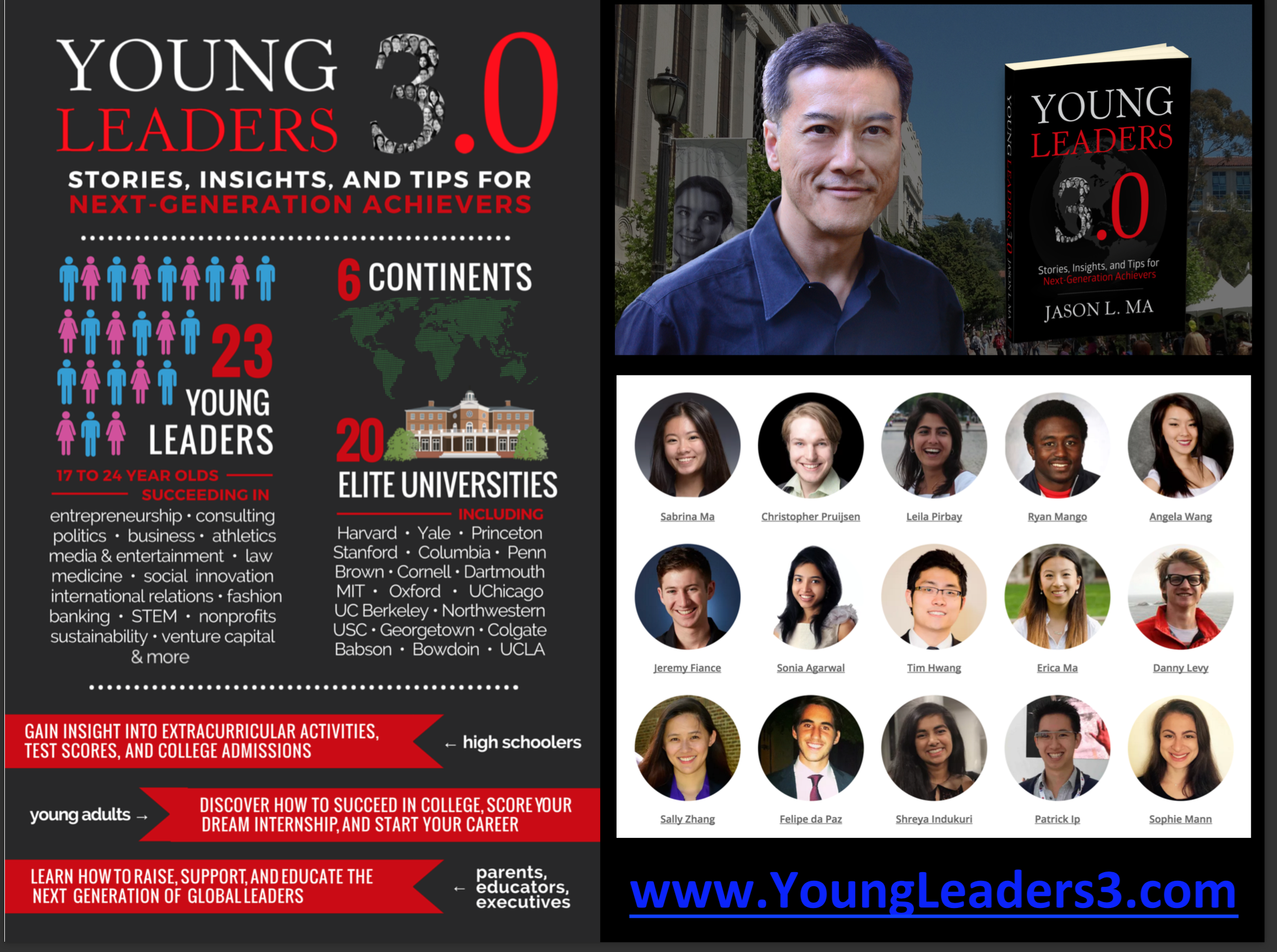 ---
.
Watch Mr. Ma's inspiring masterclass on "Preparing for Middle/High School, College, Career, and Personal Success." This was a recent special event for high-achieving parents with Mr. Ma in Silicon Valley enthusiastically organized and sponsored by the Harvard Business School (HBS) Association of Northern California and co-sponsored by the
– Harvard Club of San Francisco
– Harvard Club of Silicon Valley
– Stanford GSB Alumni
– UC Berkeley Haas Alumni Network Silicon Valley Chapter
– Wharton Club of Northern California
---
.
ThreeEQ is a member of the National Association for College Admission Counseling (NACAC). ThreeEQ CEO and Chief Mentor Jason Ma also contributes as a sustaining member for the Western Association for College Admission Counseling (WACAC).