Achieve Your Dreams with ThreeEQ's Elite College Consulting and Next-Gen Leadership, Executive Function, and High-End Career Coaching
TABLE OF CONTENTS
Remarkable Achievements of Our Students: Testimonials and Success Stories

Unleashing Your Full Potential: Navigating Your Journey to Elite College Admissions and Beyond

Powerful One-on-One Mentorship: Your Personalized Pathway to Success with Well-Being

Your Next Step Begins Here


.
High school is more than a stepping stone—it's your launchpad to a bright future. At ThreeEQ, we deeply understand the unique challenges you face on your journey towards elite college admissions. We provide the necessary guidance and resources for your notable success with well-being. Through personalized one-on-one coaching and mentoring, we empower you to achieve great outcomes, unlock your full potential, and become your best self.
With our support, you'll effectively navigate the complex process of elite college planning, applications, and admissions while fostering your holistic growth. We prioritize shaping your mindset, refining your strategies and execution, enhancing your skills, and cultivating your character for a fulfilling future. Our ultimate goal is to empower you to thrive, striking a harmonious balance between achievement and well-being. Let's embark on this transformative journey together as you pursue college admissions and beyond.
Watch ThreeEQ Chief Mentor Jason Ma's talk on "Preparing Your Children for Middle/High School, College, Early Career, and Personal Success" at a private event organized and sponsored by the Harvard Business School (HBS) Association. Mr. Ma was the sole speaker, and the event was enthusiastically co-sponsored by alumni clubs from Harvard, Wharton, Stanford GSB, and Berkeley Haas. 

Remarkable Achievements of Our Students: Testimonials and Success Stories
Watch short video testimonials from some of Chief Mentor Jason Ma's former students.
Jason Ma, Founder and CEO of ThreeEQ, is renowned as an award-winning Chief Mentor of Next-Gen Leaders. Over the years, Mr. Ma and his dedicated teams at both his previous top-tier education and college prep company and now at ThreeEQ have guided numerous motivated high school students and elder Next Gens on a one-on-one basis in achieving remarkable outcomes. We take pride in our near-perfect success rate with coachable, committed, and decisive Private Client families comprised of high-achieving students. The notable achievements of our students include:
Gaining admission to every Ivy League school, including Brown, Columbia, Cornell, Dartmouth, Harvard, Penn/Wharton, Princeton, and Yale.
Securing places in other top-tier research universities such as Stanford, MIT, Caltech, Duke, UChicago, UC Berkeley/Engineering, UCLA, NYU, Northwestern, Carnegie Mellon, Georgetown, and more.
Achieving acceptance into premier liberal arts colleges like Williams, Swarthmore, Bowdoin, Pomona, among others.

Cultivating fulfilling high school and college experiences while effectively managing stress and anxiety.

Developing critical soft and leadership skills and cultivating mindsets that promote success with well-being in college and career paths.

Securing prestigious college internships and landing lucrative post-college jobs.

Strategically charting high-end career paths.

Leading happier, more fulfilling lives.
ThreeEQ's expertise is unparalleled in the industry. We measure our success by the satisfaction and remarkable outcomes of our Client families. We warmly invite you and your parents to explore our abundant Client student testimonials and success stories, providing deeper insight into the transformative potential of our coaching and mentoring services.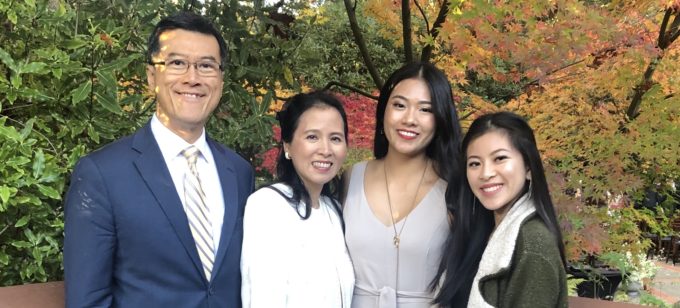 The Ma family, playfully called the "MAfia," includes two happy and compassionate Gen Z young adults. Sabrina is a rising senior software engineer at Google. Lydia graduated summa cum laude from Penn/Wharton and started working at Salesforce Slack in 2022. Both have aspirations to become impactful tech leaders.

Unleashing Your Full Potential: Navigating Your Journey to Elite College Admissions and Beyond
As a high school student, do you envision gaining admission to a top college, launching a successful career, and living a fulfilling life? Regardless of your current educational environment—be it private or public—or if you're already working with a college consultant, ThreeEQ stands ready to provide the edge you need. Our Client families regard us as their secret weapon, propelling their students towards greater achievements and success beyond their previous imagination, all the while maintaining a focus on well-being.
The elite college admissions process is more competitive than ever today, with Ivy League and top-tier institutions reporting record-low admit rates. This intense competition can breed high levels of stress and anxiety among students. With ThreeEQ's guidance, these challenges become opportunities for growth and success.
At ThreeEQ, we view college as a significant milestone, not the end goal, in a larger journey. Our aim is to cultivate life-cycle success and impact, meaningful relationships, greater joy, and peace of mind by going beyond traditional college preparation and applications. We help you stand out in your applications and thrive in college and beyond.
The hype and rush of college admissions (which we call "college admissions myopia") can overshadow the critical development of emotional, social, and leadership intelligence ("3EQ") and a range of soft skills during high school. Neglecting these areas can lead to significant issues in college such as imposter syndrome, excessive stress, heightened anxiety, and, in severe cases, depression. For a deeper understanding, consider reading "Penn ranked highest out of the Ivy League for mental health—with a D+" and "The myth of the Ivy League".
ThreeEQ offers a more holistic and powerful approach than traditional independent college counseling and consulting. We not only guide you through the complex elite college planning and application process for great outcomes in college admissions, but also mentor you in nurturing a strong growth and contribution mindset, building positive habits, honing crucial soft skills, and formulating and executing incisive strategies for success in every area of life.
Our Chief Mentor, Jason Ma, with decades of distinguished global business, education, and mentorship leadership and over 20,000 hours of successful coaching, mentoring, writing, speaking, and applied research, spearheads ThreeEQ. Mr. Ma and Team ThreeEQ are committed to providing the most comprehensive, personalized, and effective guidance available. Even high-achieving students from top private high schools and their discerning parents have chosen ThreeEQ for private 1-on-1 mentorship because they recognize Mr. Ma as the best in the industry.
Starting early with trusted third-party guidance, developing a compelling personal narrative, honing essential soft skills, and fostering a growth and contribution mindset are key to succeeding in high school, elite college preparation, and beyond. The path to developing a strong character and skill set is a marathon, not a sprint. Effective thinking, speaking, and writing skills require steady, guided progress—not quick fixes.
Embark on your journey with ThreeEQ. Reduce stress, achieve superior results, and lead a happier, more fulfilled life. Become the best version of yourself, for college admissions and beyond. Contact us now (see the "Your Next Step Begins Here" section below) to discover how we can support you in realizing your dreams and aspirations!
ThreeEQ Chief Mentor Jason Ma and his younger daughter Lydia Ma, who was the President of the Wharton Undergraduate Finance and Technology Group at the time, enjoying time with Penn students from Wharton, Engineering, and the College in San Francisco.
.

Powerful One-on-One Mentorship: Your Personalized Journey to Success with Well-Being
.
Here's an excerpt from a heartfelt message received from a grateful student, "I got admitted to Columbia, Mr. Ma!! I am extremely happy. Couldn't sleep all night. I am incredibly grateful for all your guidance and believing in me from the start! I'll never forget that. Thousand thanks to you (and Team ThreeEQ)!!!?"
Despite the hurdles of an imperfect transcript, lacking any distinct "hooks," and the absence of SAT/ACT scores, this student, the child of a successful CEO, secured her place in Columbia University, an Ivy League institution. Columbia recognized her striking potential and fit.
At ThreeEQ, we've mastered the art and the secrets of mentoring and coaching teen and young adult achievers, guiding them towards remarkable success and well-being. Our philosophy centers on:
Crafting a compelling narrative, developing authentic storytelling, and creating persuasive, competitive college applications. This not only enhances your chances of admission to your dream colleges but also alleviates stress, confusion, and anxiety.

Cultivating a mindset focused on growth and contribution, strategies, soft skills, and execution, which leads to substantial, short- to long-term impact and benefits, even among your ambitious peers.

Harnessing your full potential, facilitating your journey to become the best possible version of yourself.
At ThreeEQ, "4S" and "3EQ" is the innovative, powerful, personalized one-on-one mentorship framework devised by Chief Mentor Jason Ma, enabling our students to achieve remarkable success with enhanced well-being. "Executive function" is an integral component of 4S and 3EQ.
4S includes:

A visionary story (narrative) and character (the sum of all habits and choices)
Emotional and mental state
Strategies (academic, activities, test prep, college process, career paths, etc.)
Soft skills (complementing hard skills) and talent
Execution


.

3EQ entails:

Pragmatic emotional, social, and leadership intelligence (3EQ), which is more profound and impactful than traditional EQ.


.
Elevating your "4S" and "3EQ" empowers you to derive greater life-cycle impact, build stronger relationships, enjoy more happiness, and foster peace of mind with parents, in high school, in college, within communities, and at companies and non-profits (i.e., internships). It prepares you to navigate and mitigate potential risks of painful opportunity losses in our turbulent, ever-changing world. Hard skills may become outdated over time, but soft skills persist and stay relevant.
In our experience, personalized one-on-one coaching significantly surpasses group coaching and "mass-market" webinar or product training in its impact and depth. For high net worth families, our work also enhances legacy and succession planning—rooted in solid family values and free from the usual stress, anxiety, and sleep deprivation.

.
At ThreeEQ, we provide inspiring and personalized one-on-one mentorship for elite college planning, applications, and admissions. Our comprehensive approach is divided into three stages: (1) Preparation, (2) College Applications, and (3) Post-Application. During each stage, we collaborate with you to nurture the skills and strengths necessary to distinguish yourself and excel in all aspects of the college application process and beyond.
PREPARATION (Freshman, Sophomore, and Junior Years)
Cultivate and enhance your "4S" and "3EQ" as described above. Starting early in high school or even middle school is advantageous, but it's never too late to begin.

Formulate a comprehensive strategy for college search, planning, applications, and admissions.

Excel in your academic curriculum term by term, year by year, while honing your study skills. Your transcript is a vital component of your college application.

Strategize optimal preparation for college admission standardized tests like SAT or ACT. For international students at high schools where English isn't the primary language of instruction, the TOEFL may be required. We guide you in selecting the most effective test prep and academic tutoring specialists tailored to your needs

.

Excel in activities at school, within the community, and at home that truly resonate with your story, talent, and character.

Pursue summer activities that strengthen your narrative and showcase your talent.

Develop, improve, and maintain key relationships.

Create a compelling résumé (CV).

Research colleges strategically and undertake both virtual and in-person college visits

.




.
.
COLLEGE APPLICATIONS (End of Junior Year, Summer, and Senior Year)
Identify a manageable list of reach, probable, and solid schools, often more than ten.

Choose whether to apply Early Decision or (Restricted) Early Action.

Compose sincere, cogent personal essays, including personal statements, "why this school" essays, "why this major/field of study" essays, and other types of essays. These writings must reflect the best of you to each of your target schools. We assist in brainstorming themes and strategies for your array of long and short college app essays, and providing edits and comments on each draft until they truly embody your authentic best! 

Secure influential recommendation letters from your teachers, school counselor, and, where applicable, influential third parties.

Complete comprehensive, detailed college application forms. 

Prepare engaging visual or performing arts supplements, if applicable.

Prepare for alumni and campus interviews.

Ensure each application to your target schools is superb, maximizing your chances of admission!

Apply for merit-based scholarships, if relevant.

Continue refining aspects of your "4S" and "3EQ" (defined above) as needed.




.
.
POST-APPLICATION (Senior Year)
Provide compelling, timely updates.

Plan your summer post high school graduation. 

Respond effectively to any application waitlists.

Choose the optimal school for enrollment (matriculation)!

Continue refining elements of your "4S" and "3EQ" (defined above) as required, through college and into your future career!
We at ThreeEQ love seeing our students win, grow, and celebrate!

Your Next Step Begins Here
Are you prepared to excel in college admissions, tap into your full potential, embrace happiness, and secure a bright future? If that resonates with you, we at ThreeEQ would be delighted to arrange a complimentary initial strategy meeting (30 to 45 minutes) with you, your parents, and ThreeEQ's Chief Mentor, Jason Ma.
During this meeting, we'll examine your past, present, and future aspirations, answer any questions, and explore how we can help turn your dreams into reality. We'll also evaluate if our services align with your objectives and your family's perspective on investment (our fees). Remember, thorough preparation is essential for success in any competitive pursuit, and we aim to make the most of our time together.
To schedule a meeting, please visit ThreeEQ.com/apply to select a time that suits both you and your parents. Following that, we'd appreciate if you could complete the follow-on form at ThreeEQ.com/application, allowing us to gain a preliminary understanding before our discussion.
Before our meeting, we kindly ask you and your parents to read a few of Mr. Ma's articles and watch 1-2 relevant videos. It is vital that all decision-makers are present during our session. We look forward to our upcoming conversation!
Meet the inspiring young leaders featured in ThreeEQ CEO Jason Ma's groundbreaking book, Young Leaders 3.0. These 23 exemplary 17-to-24-year-olds share their unique stories, insights, and tips for success; over half of who were Mr. Ma's former mentees and students. Join us in celebrating their remarkable accomplishments!

.
NOTE: ThreeEQ was a member of the National Association for College Admission Counseling (NACAC) for years. However, we have since found that our own standards consistently exceed those of NACAC, and thus our membership is no longer necessary.